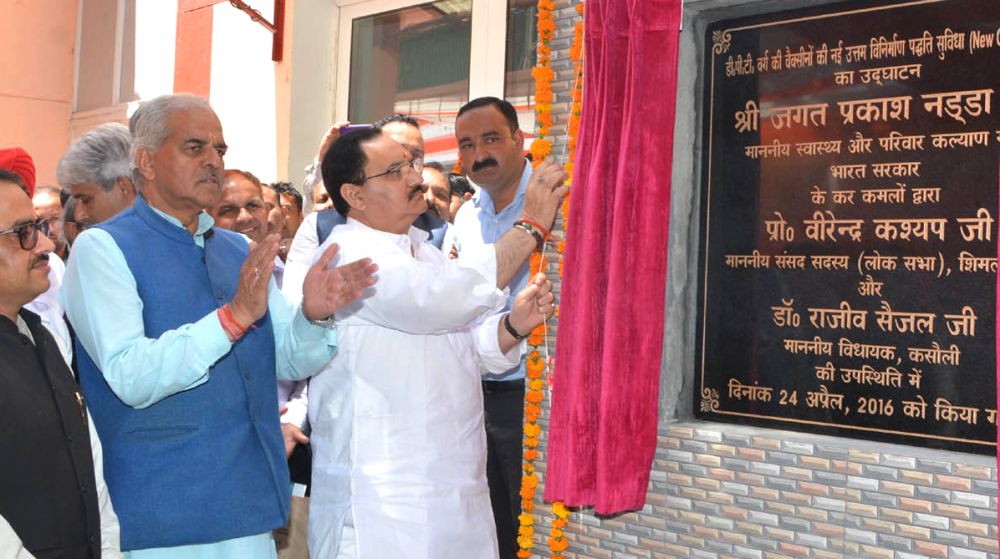 Kasauli/Solan: Union Minister for Health and Family Welfare JP Nadda, inaugurated the first of its kind Current Good Manufacturing Practise (CGMP) compliant facility within the Central Government for manufacture of DPT and TT vaccine at the Central Research Institute (CRI), Kasauli today.
Expressing happiness at this singular achievement of CRI Kasauli, the Health Minister congratulated the Institute and stated that this is a milestone in the vaccine production capacity of the country.
Nadda noted that recent advancements in regulatory requirements and introduction of CGMP concept in vaccine manufacturing led to the need for creation of CGMP compliant infrastructure and processes. Considering this, CRI has been able to create this CGMP compliant facility for production of DPT group of vaccines with the guidance and support of the Ministry of Health and Family Welfare, he added.
This makes CRI Kasauli the first Central Government Institute to have CGMP compliant infrastructure for vaccine production. TT vaccine has been commercialized from this facility for Universal Immunization Programme use and production of DPT bulk has been initiated, Nadda said. He further stated that as it is essential for vaccine manufacturers to have global quality standards, CRI is exploring the feasibility of establishing WHO prequalified cGMP compliant manufacturing facility for yellow fever vaccine. This will enable the institute to supply yellow fever vaccine to African and Latin American countries.
The Health Minister also revealed CRI expansion plans. He revealed the CRI is in process of acquiring 128 bighas of land from Himachal Pradesh Government for creation of CGMP compliant facility for manufacturing of therapeutic anti-sera. This initiative will increase the production capacity of the institute to cater to the ever increasing demand of these lifesaving anti-sera and also generate significant amount of employment opportunities for country's youth.
The Health Minister also launched the website of CRI at the occasion.
CRI Kasauli is one of the most important suppliers of vaccines for the Government's Universal immunization programme (UIP) especially for DPT and TT vaccines. The Institute is involved in manufacture and supply of various lifesaving therapeutic antisera for snake bites, Rabies and Diphtheria, and supplies Yellow Fever Vaccine to different parts of the country. Diagnostic reagents such as diagnostic antigens for typhoid, typhus fever and brucellosis and diagnostic antisera for cholera and salmonella are also manufactured and supplied to various Institutions throughout the country.