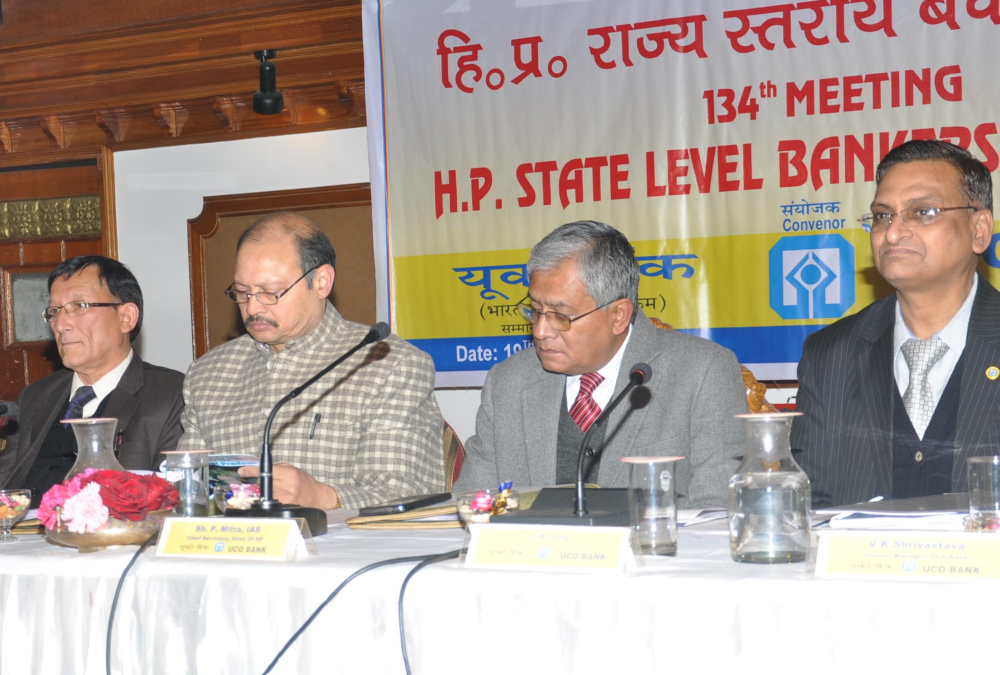 Chief Secretary P. Mitra has lauded the endeavor of banks for opening over six lakh new bank accounts under the Pradhan Mantri Jan-Dhan Yojna. In a 134th State level Bankers Committee Meeting organized by the convenor UCO bank at Shimla today, Chief Secretary asked the banks for opening of more bank accounts under PMJDY in remote areas of the State so that the people could be benefited by transfer of benefit directly in their accounts besides extending accidental insurance of Rs. one lakh free of cost.
He said that PMJDY was getting momentum in the State and expressed happiness that six districts of the State have attained a level of more than 95 percent in terms of coverage of households having atleast one bank account. He urged all the stakeholders to put thrust on awareness and publicity campaign aiming to cover all left out households within the stipulated period.
The Chief Secretary also reviewed the working of banks for achievement of credit targets fixed under annual credit plan 2014-15 and urged the banks to boost the flow of credit so that various financial targets earmarked for the current fiscal were achieved by 2015.
Dr. Shrikant Baldi, Principal Secretary, Finance urged the bankers to improve CD ratio and strengthen BCA network in terms of quality and quantity in financial transaction through building up the public faith by holding awareness campaign in rural areas. He also urged them to identify other than traditional activities for capital infusion to create more employment and improve the GDP.
J.K. Garg, Executive Director, UCO Bank said that banks in Himachal Pradesh disbursed credit of Rs. 4558 crore to about 2.09 lakh accounts under ACP upto September, 2014. The total business of the banks in the State increased to Rs. 96850 crore upto September, 2014 registering an annual growth of 8.15 percent. He said that UCO bank had converted ATM structure to E-lobby at BCS, Shimla where the customers can deposit and withdraw cash and take the entries in their pass book individually.
I.S. Negi, Regional Director, Reserve Bank of India stressed the needs to accelerate the financial literacy and awareness campaign for various schemes aiming to educate the people to know the benefit of the schemes and come forward to avail the banking facilities.
V.K. Shrivastava, General Manager, UCO Bank, A.K. Sinha, Deputy General Manager, UCO Bank and other senior officers the State Government and other Banks were present at the meeting.