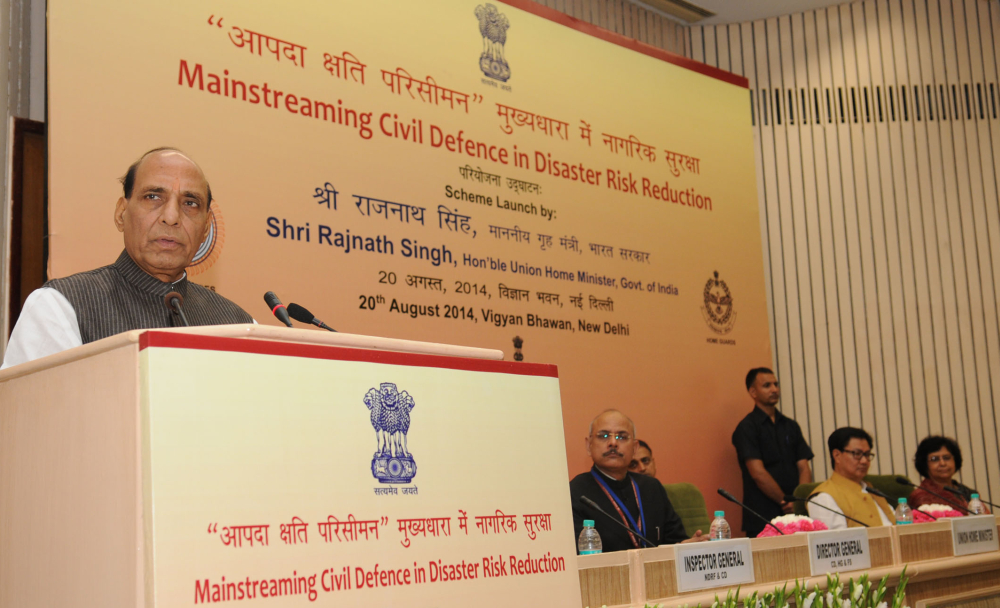 New Delhi: Union Home Minister Rajnath Singh launched the 'Plan Scheme of Mainstreaming Civil Defence in Disaster Risk Reduction' here today. Speaking on the occasion Rajnath Singh said the Plan scheme provides Rs. 290 crore during 12th Five Year Plan for Civil Defence. He said the number of rural districts covered under this scheme will increase from 100 to 240 districts.
The Home Minister said the Civil Defence Organization creates a sense of confidence among the people. Rajnath Singh stressed on the need to strengthen the Civil Defence and make it more effective. Exhorting the Civil Defence volunteers to earn their due place and respect in society, the Home Minister assured he will seek adequate funds for the Civil Defence Organisation. He called upon the officials to firm up a proposal to introduce a syllabus on Civil Defence in the CBSE curriculum.
Minister of State for Home Affairs Kiren Rijiju stressed for the need to improve and strengthen the civil defence concept. He said the Civil Defence must run as a campaign with increased awareness level. Calling for synergy from the top to bottom, Rijiju said schemes drafted on the drawing board must reach the ground level.
Lauding the contribution of Civil Defence volunteers in disaster management, Secretary (Border Management) Sneh Lata Kumar said the Civil Defence must form part of the district level planning. She said a sum of Rupees 15 crores has been earmarked for the modernization of the National Civil Defence College and over Rs.200 crores for the National Fire Service College, both based in Nagpur.
Earlier, the Director General, Civil Defence, Home Guards and Fires Services RR Verma sought better remuneration and an insurance scheme for the Civil Defence volunteers besides morale boosting incentives to go along with the ceremonial medals awarded to meritorious volunteers.
Rajnath Singh presented Civil Defence medals to the awardees.
The Union Home Minister also released a publication 'Mainstreaming Civil Defence in Disaster Risk Reduction plan scheme.' Representatives of Civil Defence from various states and Union Territories attended the function at Vigyan Bhawan.