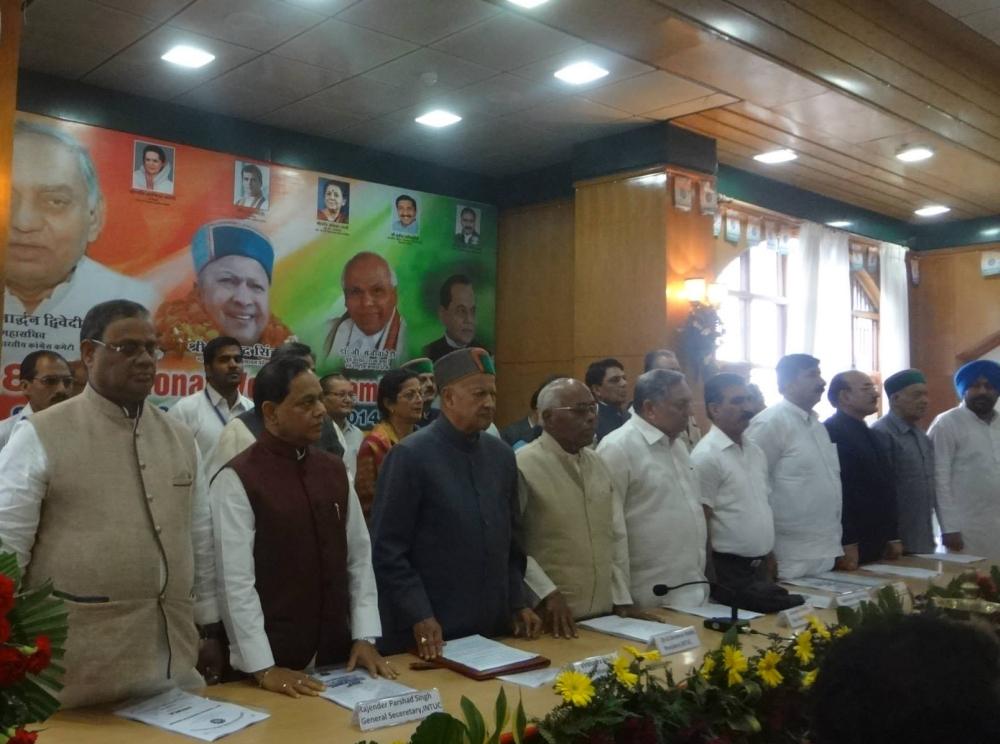 Shimla: Himachal Pradesh Chief Minister Virbhadra Singh lauded the efforts of Indian National Trade Union Congress (INTUC) and asserted that it's an appropriate platform to take up the grievances of the workers through-out the country.
Chief Minister said this while speaking at 287th National Meet of INTUC here today. He added that the State Government was ensuring maximum rights and benefits to the working class and committed to provide better working environment to the workers engaged in various industries in the State and safeguarding their interests.
Janardhan Dewedi, General Secretary, All India Congress Committee on the occasion said that the movement undertaken by INTUC was associated with the socio-economical and cultural upliftment of the working class thereby ensuring their overall development.
Dewedi said that the Country can be led to progress by amalgamating the traditional culture and modernity. The working class needs to be respected at all levels and more educational opportunities be created for them together with appreciating their dignity for labour.
He said that the INTUC came into existence together with independence of the country and leaders of high caliber and ideals were part of the organization and we need to maintain its values in future.
Dr. G. Sanjeeva Reddy, National President INTUC said that with the consistent efforts of the organization, the INTUC has emerged as a largest organization having more than three crores members in the country. He said that presently the organization has ample resources of its own and expanding day by day.
Mukesh Agnihotri, Industries Minister, while speaking on the occasion said that the Government was committed for welfare of working class and had decided to provide Rs. one lakh in case the workers dies during the working hours and Rs. 50 thousand in case of natural death. Besides, housing facility was being provided to those working in industrial belts of the State. Rupees six crore Women Working Hostel was under construction at Baddi.
Bawa Hardeep Singh, State President INTUC welcomed the Chief Minister and other dignitaries on the occasion besides the delegates associated with INTUC from all over India.
Health and Family Welfare Minister Kaul Singh Thakur, Sujan Singh Pathania, Agriculture and MPP & Power Minister, Thakur Singh Bharmouri, Forest Minister, Col. (Dr.) Dhani Ram Shandil, Social Justice and Empowerment Minister, Anil Sharma, Rural Development and Panchayati Raj Minister, Sukhvinder Singh Sukhu, President, Himachal Pradesh Congress Committee, Ashok Singh, National Vice President INTUC, Rajinder Prasad, National General Secretary, INTUC, Veena Singh National President Women INTUC were also present on the occasion among others.