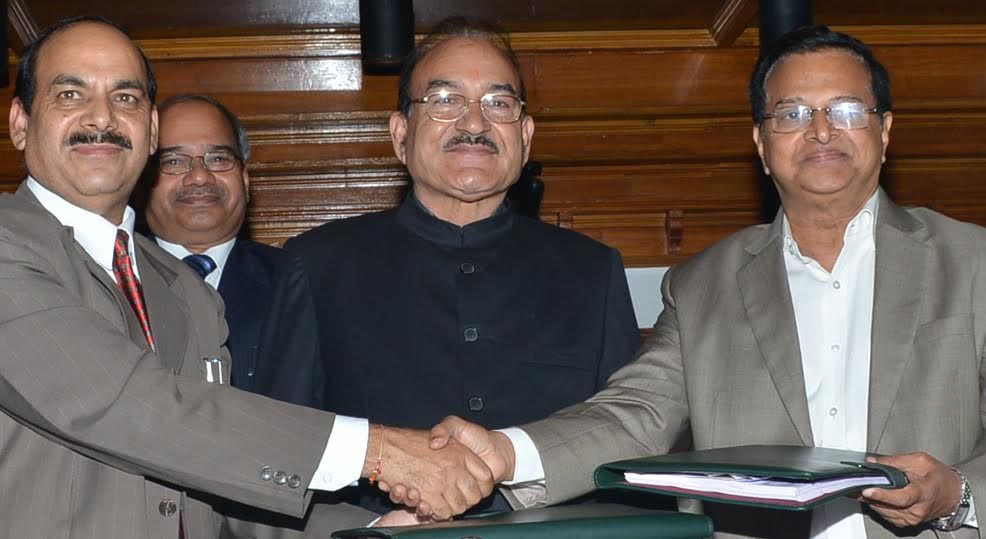 Himachal Pradesh today signed a memorandum of understanding (MoU) for the launch of the 102 ambulance service under the Janani Shishu Suraksha Yojana.
The MoU was signed between Hans Raj Sharma, Director, National Rural Health Mission (NRHM) and K Krishnam Raju, Director, GVK EMRI. Health Minister Kaul Singh Thakur was also present oa the occasion.
This service will be launched on Children's Day, i.e. November 14, 2014, and be available on toll free number 102.
Kaul Singh Thakur said that the State Government had decided to provide free back drop facility to all pregnant women and new born babies upto one year of age. Under this scheme, 125 such ambulances would provide facility to the pregnant women, women after delivery and sick children upto the age of one year from the date of birth.
He said that one vehicle each would be stationed at all the 116 identified delivery points in the state and additional 9 vehicles would be deployed at delivery points with heavy load, as per the need. Health minister said that this free service would promote institutional deliveries which in turn would go a long way in further reducing the Maternal and Infant Mortality rate in the State.
He said that already operational National Ambulance service 108, had been providing emergency services to the people of the State and with the introduction of 102 back drop service, a new feather had been added to the health sector in the State.
The Health Minister said that the State government was committed towards development of comprehensive medical response system in the State. He said that all efforts were being made to achieve the cent-percent institutional delivery rate.
Principal Secretary Health P.C. Dhiman, Director Medical Education Dr. Jaishri Sharma, Director Health Safety Regulation Rameshvar Sharma, Additional Director Health Tanuja Joshi and Subodh Satyawadi from GVK EMRI were present on the occasion.