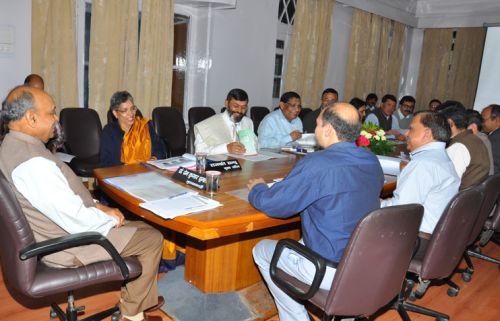 Chief Minister Prem Kumar Dhumal stress to make information technology people friendly as it is a vital link between the government and the people. He was addressing the First Meeting of the General House of Society for Promotion of IT and e-Governance (SITEG) in Himachal Pradesh.
He said that the technological advancements needed to be utilized in prompt delivery of services to the common man at their door steps without wasting their time and money. He said that in the present day context keeping pace with the global technology was need of the hour for the progress of any society. He said that the State was promoting IT penetration to provide efficient Government to Citizen (G2C) services to the people besides creating a strong e-Governance Network by setting up core infrastructure facilities for all government departments running e-Governance applications, consolidation of data at single location in a secured manner and enabling online delivery of services at the doorsteps of the citizens. He said that the State Government would be exploring possibilities of enrolling all the students in schools of ninth and matric standard so that readily available data was prepared for holding Board examinations. He said that efforts needed to be made to help examinees submit their examination forms electronically as also email their examination roll numbers.
Chief Minister said that the State had introduced e-procurement and e-tendering in major departments which had resulted into competitive and uniform rates across the State together with bringing transparency in official procedure thereby saving time and money. He said that the Revenue Court Case Monitoring System was benefiting citizens with online cause list, interim orders and downloading of judgments, Litigation Monitoring System enabling Departments in knowing about new cases instituted, notices issued, due date for filing reply and interim orders etc. He said that E-Despatch introduced on 3rd September, 2011 in HP Secretariat and Directorates aims at helping in fast delivery of letters, reduces stationary and printer consumable costs and save on postage. He said that the Parivaar Register for Panchayati Raj Department would help in automatic generation of birth register, death register and marriage registers to issue certificates. He said that HIMSWAN programme was under successful implementation in the State to connect all field level offices with state headquarters adding that Hangrang and Sangla in Kinnaur, Kaza in Spiti, Dodra-Kwar in Shimla, Pangi valley and Rait in Kangra were among the 1220 horizontal offices connected under the Project while 900 more would be connected soon.
Chief Minister said that 3,366 Lok Mitra Kendras were being set-up throughout the State to provide G2C Services out of which about 2400 had already been opened. He said that the Kendras had been authorized to accept electricity, water and telephone bills, besides providing jamabandies, bus tickets and e-samadhan services to the people. He said that collection of electricity bills had increased from Rs. 65,000 in October, 2010 to Rs. 2.40 crore in August, 2011, compared to only 8 Jamabandis issued in January, 2011, 8,600 had been issued upto mid-September. He directed the authorities to ensure that preparation of unique ID (Aadhar) cards was expedited and completed in a targeted manner. He said that AGRISNET project had also been launched to create an interactive interface for government to citizens, for services of agriculture, horticulture, animal husbandry and fisheries department. He said that video-conferencing facilities in jails needed to be utilized to expedite cases pending in different courts. He directed the authorities to make optimum use of the SMS Gateway services to bridge the communication gap between government and people.
Chief Secretary Rajwant Sandhu said that the State had made significant progress on IT front since automation and analytic data was available which was providing significant input in policy formulation and development planning of the State. She said that many more services were likely to be made available to people of the State in the near future. Dr. Srikant Baldi, Principal Secretary, Finance and IT, welcomed the Chief Minister and said that IT had made rapid progress on different fronts in the State wherein more and more services were being ensured to the people.Rajneesh, Director, Information Technology, gave a detailed presentation over the various schemes launched through IT in the state which had resulted in bringing about efficiency, transparency and direct access of the public to all the services they needed.
Vice Chancellors of Himachal Pradesh University and Jaypee University of Information Technology also shared their experiences. S.K. Dash, Principal Secretary SJ&E, T.G. Negi, Principal Secretary Transport, Prem Kumar, Principal Secretary, Food and Supplies, Dr. Deepak Sanan, Principal Secretary Revenue, V.C.Pharka, Principal Secretary Horticulture, P.C. Dhiman, Principal Secretary Home, Manisha Nanda, Principal Secretary, Tourism and Personnel, SKBS Negi, Principal Secretary, Panchayati Raj and Rural Development, R.D. Dhiman, Chairman, HP State Electricity Board Limited, A.R. Rizvi, Principal Secretary, Health, J.S. Rana, Director of Industries and other senior officers were present in the meeting.