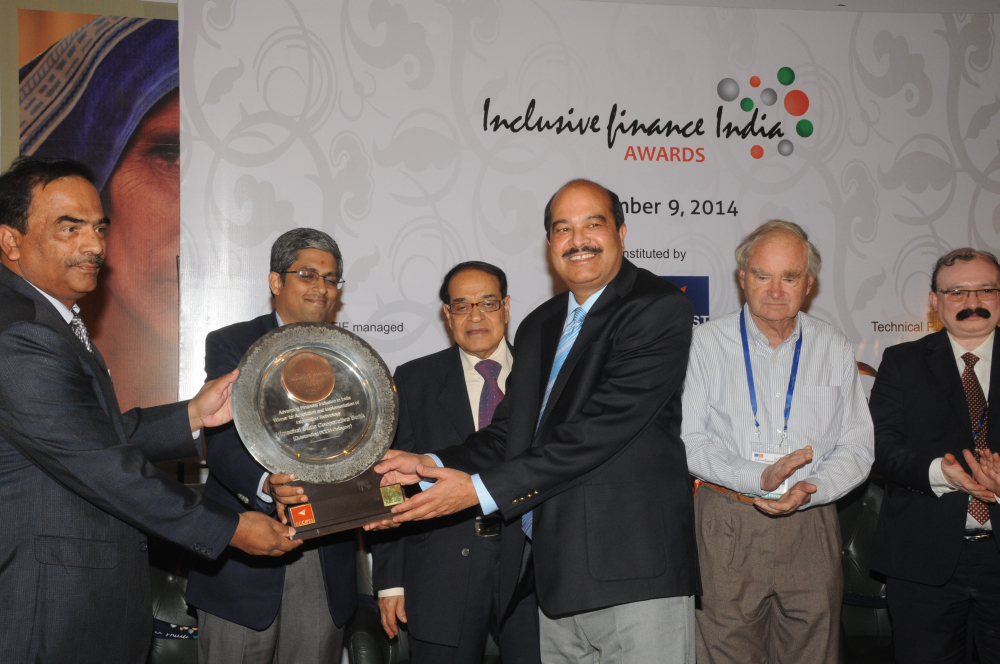 The Himachal Pradesh State Cooperative Bank has been awarded first prize as the best Cooperative Bank in India, amongst all existing Cooperative Banks in the country.
The 'Inclusive Finance India Secretariat' which is supported by NABARD and GIZ (an international enterprise owned by the German Federal Government) has informed that the distinguish jury constituted for Award, 2014 selected the HP State Cooperative Bank as the winner of the Inclusive Finance India Award, 2014 under the category of "Information Technology and its Implementation".
The selection was based on the Bank's extra-ordinary growth and performance and effective "Governance and Management" which has been introduced and installed in the organizational ethos.
Harsh Mahajan, Chairman of the Bank, today received the award from the Chief General Manager of NABARD P. Statish, at Inclusive Finance India Summit 2014, held at New Delhi.
On this occasion, Mahajan said that the award had been given to the bank on the account of establishing a new milestone in the Information Technology and its Implementation in the State. With the implementation of IT in the Bank, the business of the Bank had increased manifold.
Mahajan congratulated the Bank Management and Employees of Bank for achieving this milestone at the National Level. He said that besides motivating the Management & the Employees of the Bank this award would also encourage them for discharging their responsibilities with their utmost sincerity, loyalty and source of belongingness.
Mahajan said that in the past two year the Bank had bagged five National Awards in different category in which banks had been awarded number one Bank in the Country amongst all Cooperative Bank in the field of "Overall Performance, Computerization, Good Governance and Management, Best Outreach Awards and Best Performing Training Institute in the country".