Jwali: Himachal Pradesh Chief Minister Jai Ram Thakur today said that the BJP and its allies would emerge victorious on more seats in this Lok Sabha elections as compared to 2014 elections as people of the country are satisfied with the exceptional development achieved by the Modi government and they want to keep this momentum without any break.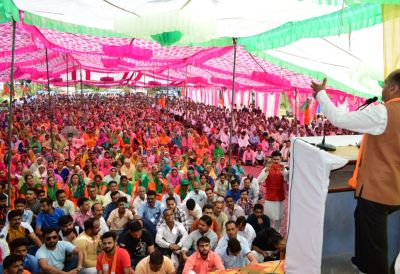 Jai Ram Thakur, in a public meeting in Jawali Assembly constituency of Kangra district in favour of BJP candidate Kishan Kapoor, said the people of the country have made up their mind this time too they would support Narendra Modi as Prime Minister who has earned the name for the nation by ensuring unprecedented development in each and every sector. He stated
"The five years term of the Modi government has been witness to numerous achievements whereas on the other hand, the ten years of UPA government would always be remembered as an era of scams and corruption."
Thakur said that eying its defeat in this election, the Congress leaders are resorting to undignified and indecent language, which is a threat to the democracy. The people of the country would never pardon the Congress leaders indulged in scurrilous comments and will have to face a counterblast in the Lok Sabha elections.
Praising the tenure of Narender Modi as PM, the Chief Minister stated that the Modi government has served the people of the nation with utmost honesty and dedication as a result of which the country is marching ahead on the path of development. Various historic welfare schemes initiated by the Modi government have proved boon to the masses.