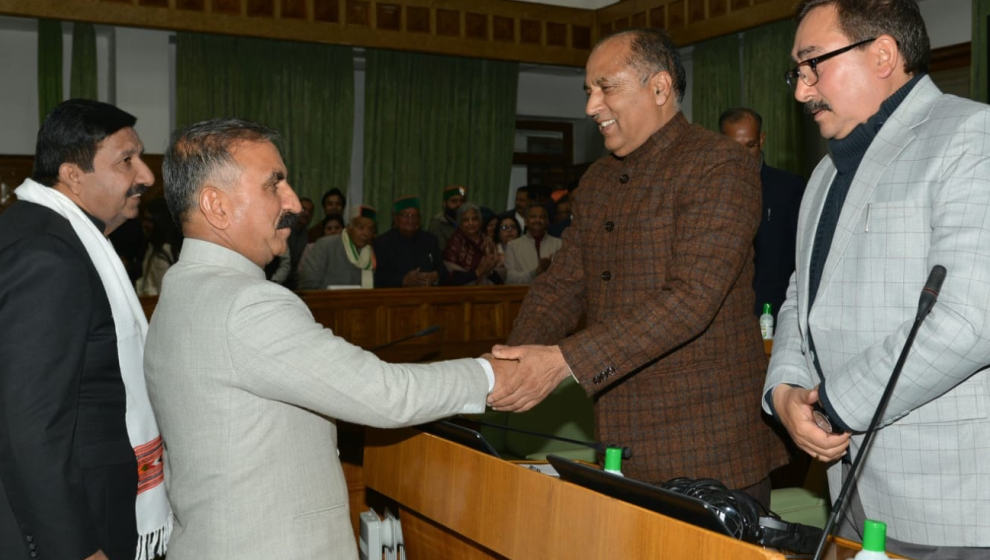 Dharamshala: The first session of the 14th Himachal Pradesh Assembly started on a stormy note as the opposition BJP disrupted the proceedings, accusing the Congress government of having a 'vengeful attitude.'
Protem Speaker Chander Kumar administered oath to Chief Minister Sukhvinder Singh Sukhu, Deputy Chief Minister Mukesh Agnihotri, Leader of the Opposition Jai Ram Thakur and other newly elected MLAs.
Before oath-taking, the leader of opposition Jai Ram Thakur asked the treasury bench to revoke the order of denotifying institutions opened by the previous BJP government.
Thakur termed the orders of denotifying institutions illegal and claimed that the right to de-notify institutions rests with the cabinet which is yet to be formed.
Intervening in the matter, Chief Minister Sukhvinder Singh Sukhu said the newly elected MLAs should be administered oaths first and then other issues could be discussed.
Earlier, after resuming power in the state, Chief Minister Sukhvinder Singh Sukhu had denotified several institutions and claimed that the previous government had opened these institutions on political grounds and did even not make any financial provision.