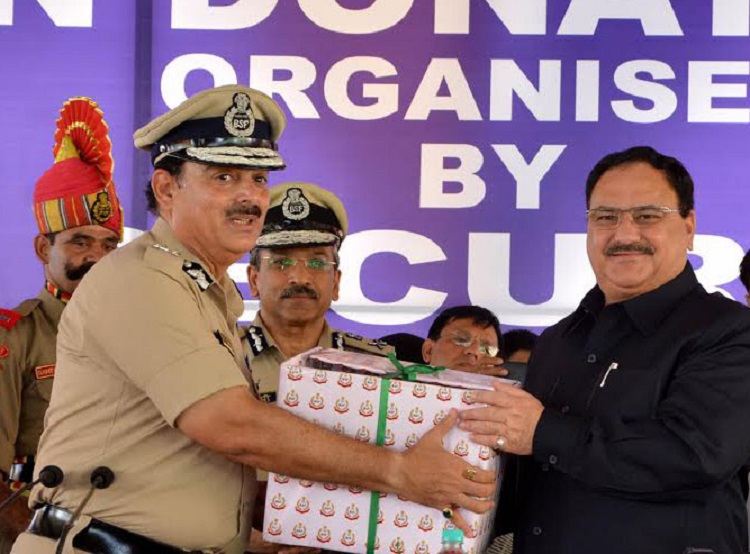 New Delhi: Border Security Force (BSF), handed over 1500 certificates to JP Nadda, Union Minister of Health and Family Welfare, pledged to donate organs at a function organised in collaboration with National Organ and Tissue Transplant Organization (NOTTO), here today.
Nadda hailed the initiative of BSF and hoped it to go a long way in spreading awareness about Organ Donation. Nadda said that India's First Line of Defence, The Border Security Force (BSF) has been safeguarding our borders for the last 50 years and this is indeed another commendable service to the nation by BSF. Nadda Stated
"Donating organs is akin to gifting a new life. Organ is a National Resource and not even one should be wasted. I, therefore, call upon all Indians to Pledge to Donate Organs after Death and save many precious lives. Let organ donation become a national movement and show to the world that even in death; we care for our fellow citizens and the humanity at large,"
The Health Minister further said the benefits of initiatives should reach out to every nook and corner of the country and should not be limited to cities only. He further added that the demand for organs is likely to increase manifold in future keeping in view the increased incidence of lifestyle diseases. So, there is a need to create a system for improving the rate of safe, effective and ethical donation of cadaver organs for transplantation in those who need them badly.
Government is also taking various steps to simplify organ donor law/rules and procedures such as: Website of National Organ & Tissue Transplant Organisation (www.notto.nic.in) which provides updated information and online facility for registering pledges for organ donation. A 24×7 call centre with toll free helpline number (1800114770).
The Ministry has also launched a National Organ and Tissue Donation and Transplant Registry. The networking of transplant and/or retrieval hospitals has been started initially in Delhi and NCR. Five regional level organizations called Regional Organ and Tissue Transplant Organization (ROTTO) have also been identified.