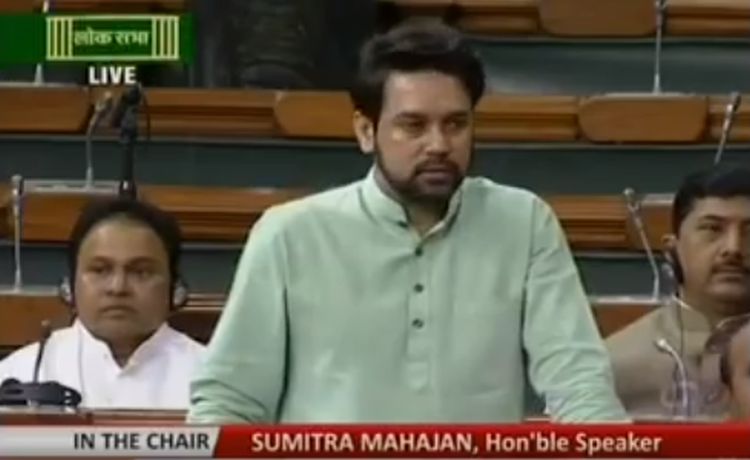 New Delhi: Hamirpur Parliamentarian Anurag Thakur hit out at Congress over the issue of a Delhi University textbook published during UPA tenure that termed Bhagat Singh, Chandra Shekhar Azad and others freedom fighters as 'terrorists'.
Anurag Thakur while speaking at the house today, said, "Bhagat Singh is being referred as a 'terrorist' in books. What history is being taught in schools and colleges? The Congress changes its definition of terrorism as per its will. Gandhi family and Congress should answer why they side with anti-nationals conveniently and chose to forget Bhagat Singh who fought for India's Independence"
The book, titled, 'India's struggle for Independence' calls movements led by Bhagat Singh and his associates as terrorist activities, Thakur stated.
BJYM national president claimed that all five co-authors of the book are known to have Congress and leftists leanings, and interestingly four of them are professors at Jawahar Lal Nehru University that has been in news over the anti-national slogans that were raised by its students and faculty members a few months earlier. The authors of the book were also rewarded with directorships and chairmanships of various public organisations during the previous UPA tenure, Thakur further claimed.
Anurag further lashing out at Congress said, "One of the 5th class CBSE text books published during UPA tenure calls Rahul Gandhi, a 'charismatic leader'. Thakur questioned what good has Rahul Gandhi done and a leader of just 44 members in the house how can he be a 'charismatic' leader while a freedom fighter like Bhagat Singh who chose to hang till death for independence labeled a terrorist.