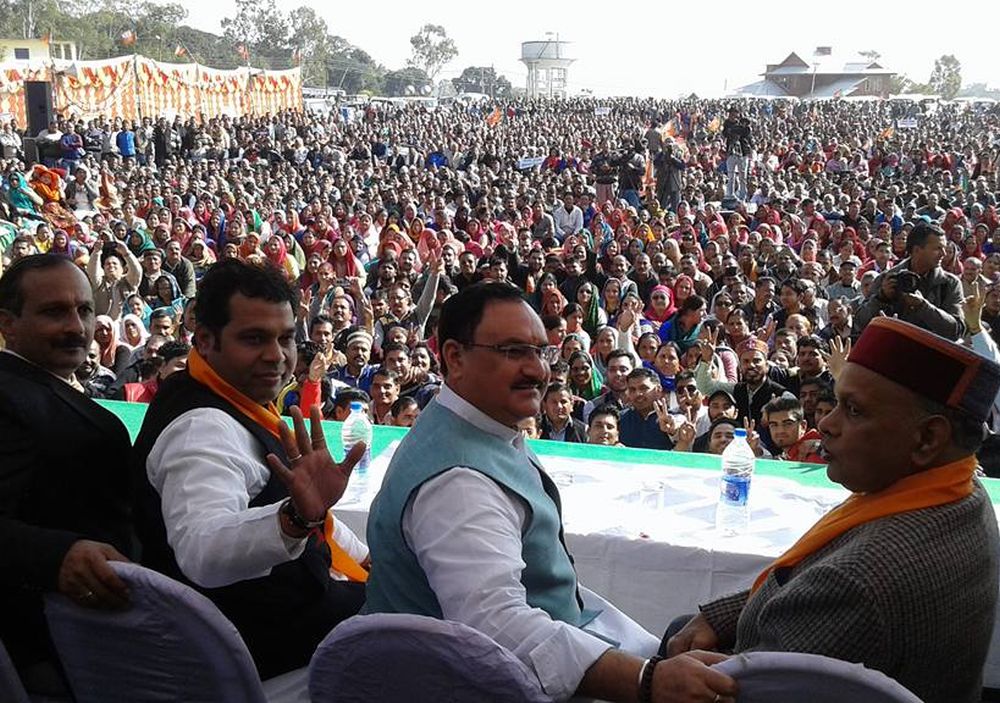 Dharmashala: Demanding Chief Minister Virbhadra Singh resignation following registration of disproportionate assets cases against him by CBI and Enforcement Directorate, the state BJP today organised a 'Virbhadra Hatao Himachal Bachao' rally at Zorawar Singh stadium at Dharmashala.
Senior party leader JP Nadda, leader of opposition Prem kumar Dhumal, state party president Satpal Singh Satti, state in-charge Shrikant Sharma, most of elected legislatures and thousands of party workers present at the rally. However, senior BJP leader Shanta Kumar gave slip to the rally owing to the health issues.
Former Chief Minister Prem Kumar Dhumal ridiculed Singh's allegations of political witch hunting and reminded that all cases were registered against him during his tenure as Union Minister for Steel in the UPA government. And if there is any conspiracy then he should blame it for his party only.
Union Minister for Health JP Nadda accused Chief Minister for defaming Himachal. He said that the CM has stick to the chair to protect himself only and giving bad name to the state. Nadda stated that Singh has no right to continue and should resign immediately on moral ground.
Nadda also praised Prime Minister Narendra Modi for increasing the esteem of the country at international level.
Srikant Sharma, Satpal Satti and other leaders also addressed the rally and demanded the resignation of Chief Minister.
Later, the BJP workers marched towards Vidhan Sabha premises at Tapovan, but police thwarted their efforts and stopped before reaching at the Vidhan Sabha.