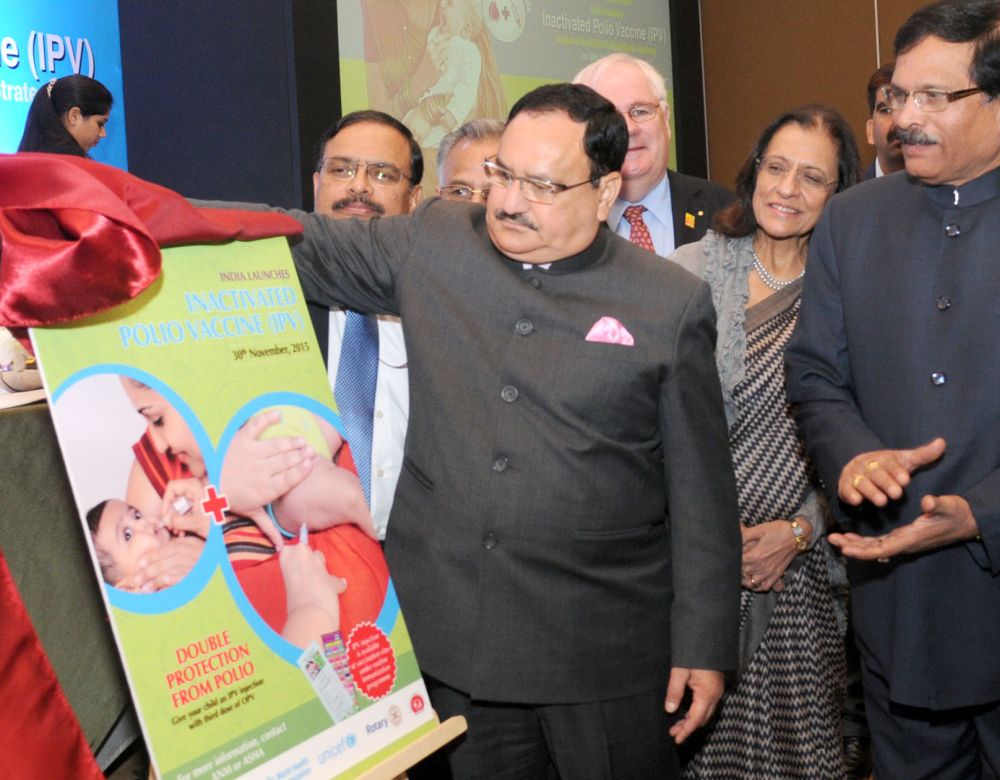 New Delhi: Union Minister for Health and Family Welfare J.P Nadda, today launched the injectable Inactivated Polio Vaccine (IPV) in India as part of its commitment to the 'Global Polio Endgame Strategy' at a function, here today.
The Health Minister, speaking at the occasion, termed it a landmark step to provide double protection to our children and securing our gains of polio eradication, the Government of India is introducing IPV into its routine immunization program along with oral polio vaccine.
Nadda informed that in the first phase this vaccine will be introduced in six states, viz Assam, Gujarat, Punjab, Bihar, Madhya Pradesh, and Uttar Pradesh. IPV injection will be given to children below one year of age along with the third dose of the Oral Polio Vaccine (OPV) at the routine immunization sessions free of cost, he stated. New evidences now clearly show that IPV and OPV together will further strengthen the children's immune system and will provide double protection against polio, the Health Minister added.
Minister said that today's introduction of IPV in routine immunization is as per recommendation made in World Health Assembly.
The IPV will roll-out to 126 countries which are only using OPV in the National program and it will be the largest and fastest globally-coordinated vaccine introduction project in history.
The Health Minister said that apart from introduction of new vaccines such as Pentavalent and IPV, the Government of India is ensuring that every last child in the country is benefited by the immunization programme. To achieve this, "Mission Indradhanush" was launched in unidentified high and medium focus districts across the country in two phases, under which over 95 lakhs children were fully vaccinated.
The Health Minister thanked and congratulated all state governments and the supporting organizations like WHO, UNICEF and Rotary International etc. for partnering in this endeavor.