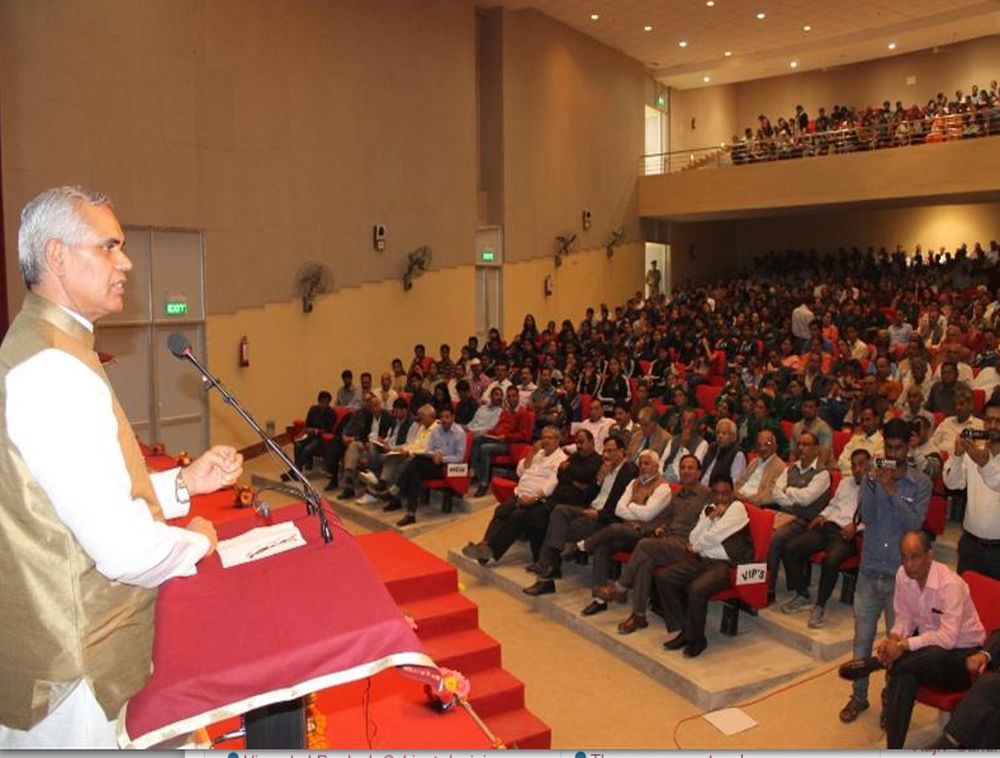 Himachal Pradesh Governor Acharya Devvrat today inaugurated the four day long State-level Farmer Training Camp on Organic Agriculture and Zero Budget Natural Farming organised by Dr Y S Parmar University of Forestry and Horticulture at Nauni in Solan district.
Speaking on the occasion, the Governor stressed upon conducting intense research in order to promote traditional farming. He urged the scientists to come out with new techniques and information to update farmers for improving their farming skills and methods. He said that there was need to develop indigenous seeds which are disease resistant.
Acharya Devvrat said that there was a need to generate awareness among the farmers regarding the research being conducted in the laboratories and added that all the research would be meaningless if the same knowledge was not disseminated among farmers. He urged the agriculture, horticulture and animal husbandry departments to take the knowledge to the fields and farmers and concentrate more on monitoring the field activities.
Governor said that use of natural pesticides should be encouraged and the farmers should be made aware regarding their usage. He said that pesticides presently being used were not only harmful for health of consumers but was also destroying the fertility of soil. He said that farmers should adopt cycle of crops which was part of traditional farming which not only provided natural pesticides, but diversification of crops also contributed towards the increase in income. He also stressed upon arrangement of adequate cold storage chains to increase the life of produce.
Dr Subhash Palekar Eminent Scientist and Resource Person during the camp said that 35 crore acre land was available for cultivation and in order to cater to the food requirement of entire population of the country the agriculture production had to be doubled by 2050 which was a major challenge. He said that Zero budget natural agriculture was helpful for the same and farmers would be made aware about the same during the camp.
Dr Vijay Singh Thakur Vice-Chancellor Dr Y S Parmar University of Forestry and Horticulture, Dr D K Shrivastav Director Extension Education, Dr R C Sharma Director Research, Dr K K Katoch Vice Chancellor CSK Agriculture University Palampur, Director Agriculture J C Rana, Senior officers of Horticulture, Animal Husbandry departments, Scientists and teaching faculty of Dr Y S Parmar University of Forestry and Horticulture and farmers across the state participated in the camp.