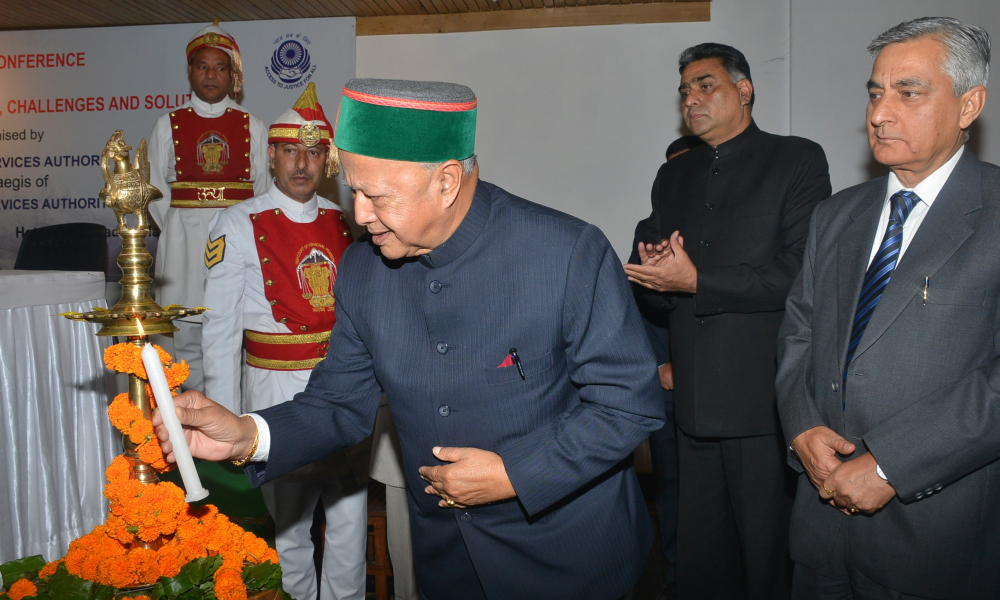 Manali: Himachal Pradesh Chief Minister promised to deal with the drug trafficking and menace strongly and advocated for stringent laws to curb it.
Speaking at three day judicial conference on 'Drug Menace in India, overview, challenges and solutions' organised by HP State Legal Services Authority at Manali today, the Chief Minister said the challenges posed by illicit drug trafficking and abuse of drugs were universal and India was no exception to this twin problem.
"Illicit drug business attracts criminal organizations because of the huge potential profits" he said, adding that online pharmacies indulging in illicit sale of pharmaceutical drugs through internet is major emerging problem nowadays which has to be countered effectively.
The Chief Minister said that the drug control strategies were generally aimed at achieving a balance between supply reduction and demand reduction of drugs, and without demand reduction there will only be a shift towards other drugs or substances of abuse.
The Chief Minister urged the judiciary to decide the cases of master minds of drug business expeditiously and on priority basis so that it could be a lesson for others involved in drug business.
The Chief Minister said that Government was committed to stamping out drug menace and termed Inter-agency coordination most essential prerequisite for reduction in the supply of drugs.
Union Health Minister J.P. Nadda stressed for the need for adopting holistic approach with the support of the society to root out the drug abuse from the society to a large extent and hinted to incorporate the drug syllabus in schools to create awareness amongst the students so that they could be sensitised at very young stage.
Judge of Supreme Court, Justice T.S. Thakur, said that in HP the total number of cases registered as on 31st May, 2015, under NDPS were 4366 and 871 cases alone in district Kullu were lying pending to be decided upon after district Mandi, and for the very reason we chose to hold this conference at Manali in Himachal Pradesh.
He stressed for strict enforcement of laws and need for the introspection of judiciary and government towards the path society heading.
Chief Justice, Himachal High Court, Justice Mansoor Ahmed Mir stressed upon the complete eradication of drugs and raised concern about increasing rate of druggists in the country which has touched alarming figure to around five million. He said that the epidemic of drug abuse in young generation has assumed alarming proportion in India.
Justice A.K. Sikri, Justice S.A. Bobde of Supreme Court of India, Judge HP High Court Justice Rajeev Sharma, Justice D.C. Chaudhary, Justice P.S. Rana, Justice Sureshwar Thakur, Judges from State of Rajasthan, Uttrakhand, Jammu and Kashmir, Delhi, Punjab and Haryana, Advocate General, Shrawan Dogra, Secretary Law HP, D.K. Sharma, Member Secretaries of National and State legal services authority, were also present on the occasion amongst legal fraternity.