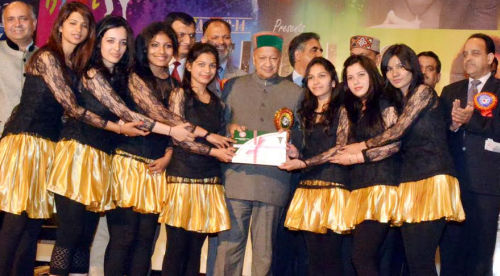 In the inaugural session of three day long annual function 'Stimulus-2014' of Indira Gandhi Medical College (IGMC), Chief Minister Virbhadra Singh reiterated that Medical education was priority area of State Government and Rs. 211.57 crore had been allocated for this vital sector during current fiscal.
He said that IGMC is one of the premier medical institutions in the State and the Government was committed for strengthening the same. He said that IGMC was being upgraded under Phase-III of the Pradhan Mantri Swasthya Suraksha Yojna with an outlay of Rs. 150 crore.
Virbhadra Singh revealed that the Government had filled up 71 posts of different categories in IGMC and 57 posts in Dr. RPMGC Tanda in one year. He said that the State Government was committed to improve standards of health care in the State and medical fraternity has to play special role in it.
Chief Minister promised to ensure time bound promotions to doctors and specialists working at IGMC and Dr. RPMGC. He said that academic allowance of Rs. 7500 would be given to the MBBS students. He announced Rs. 20,000 for promotion of cultural activities to IGMC Central Students Association (CSA).
Later, the Chief Minister gave away the prizes to the participants. A colourful cultural programme was also presented by the students.
Earlier, General Secretary, CSA Dr. Manish Thakur welcomed while President CSA Dr. Abhay Minhas read the annual report.
Chief Parliamentary Secretary Nand Lal, Principal IGMC Dr. S.S. Kaushal, Staff Adviser Dr. Sanjeev Sharma, Dr. Pyush Kapila, Special Secretary, Health Amitabh Awasthi, Principal Dental College, Dr. R.P. Luthra, Senior Medical Superintendent IGMC Dr. Ramesh Chand, Senior Medical Superintendent KNH Dr. L.S. Chaudhary, faculties and senior doctors and students of medical colleges were present on the occasion.