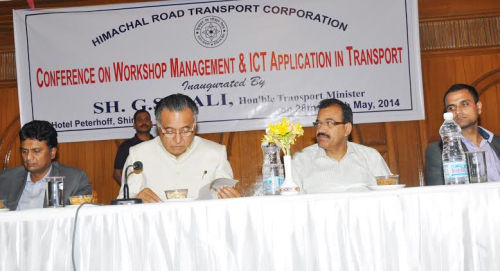 HRTC organised two days Conference on Workshop Management and ICT Application in Transport' at Shimla. Transport Minister G.S. Bali inaugurated the Conference here today. The purpose of this workshop was to bridge the gap between the manufacturers and consumers so that commuters could be provided better services.
Transport Minister claimed that the State Government for clean and pollution free Himachal and to achieve it, Govt has initiated sincere efforts for adoption of new and innovative technologies.
Bali said that close coordination between technology providers and corporation was of paramount importance to remove bottlenecks hampering the process. He exhorted various equipment providers and producers to interact with ground level staff of Himachal Roadways Transport Corporation so they could understand their basic requirements and accordingly incorporate the changes.
He said that due to persistent efforts of State Government and perseverance of Transport officials, Government of India has sanctioned Rs. 289 crore under Jawahar Lal Nehru National Urban Renewal Mission (JNNURM) for purchase of 800 buses and for up-gradation of workshops in HRTC and Rs. 70 crore would be spent on up-gradation of workshops and development of Information Technology infrastructure. He said that corporation was introducing 500 new buses so that commuters could be provided with best facilities. Out of this 330 buses had already been added to the fleet of HRTC.
Transport Minister said that the Kilo Meter Per Liter (KMPL) during the year had increased from 3.51 kms/liter in August, 2013 to 3.67 kms/liter in May, 2014 and persistent efforts were being made to maximize it. He asked the officials of the Corporation to work for attaining best KMPL, which would increase the revenue. He said that workshop up-gradation was of utmost importance for HRTC which would help in keeping bus fleet in good condition besides making fleet management cost effective.
Shri Bali said that workshops were the backbone of the corporation and efforts were on to introduce smart technology in all the workshops in a phased manner. He also asked the officials to ensure that buses were washed and cleaned at regular intervals. He directed the Corporation to ensure that directions for maintenance of cleanliness inside the buses be displayed within one month's time.
He hoped that deliberations in this two days workshop would help in synchronization of efforts of equipment manufacturers and their users in HRTC which in turn would optimize the benefits of HRTC along with better services to its passengers.
Dr. R.N.Batta, Managing Director, HRTC welcomed the Chief Guest and participants and detailed about the need for this workshop and its use He assured the minister that HRTC was working overtime to provide better services to its commuters and trying hard to increase its revenues. He said that presentations would be given by M/S Tata Motors Ltd., M/S Trimax, M/S Swaraj Majda Isuzu Ltd. and M/S VECV Ltd during the workshop.
K. Sanjay Murthy, Principal Secretary, Transport, Ritesh Chauhan, Director, Transport, Board of Directors of HRTC, official of the corporation and representatives of various equipment companies were present on the occasion.