During the election campaign, Prime Minister Narender Modi had promised to clean the parliament and had declared to critically examine MPs with self-declared criminal cases and to ascertain the truth, promised to fast track all the cases.
To verify the promises of Prime Minister, National Election Watch (NEW) and Association for Democratic Reforms (ADR) have analysed the self-sworn affidavits of 44 ministers out of 46 Ministers (Including Prime Minister) and current Rajya Sabha, found that 13, which are amounted to the 30 percent, Ministers have declared criminal cases against themselves.
Eight ministers have declared serious criminal cases including cases related to attempt to murder, communal disharmony, kidnapping, electoral violations etc. against themselves.
However, the details of Prakash Javadekar and Nirmala Sitharaman were not analysed as they are not currently members of either house.
Out of the 44 Ministers analysed, 40 (91%) are crorepatis and average assets per minister is Rs.13.47 crores. Finance Minister Arun Jaitley topping the list with 113 Crore worth assets, while Harsimrat Kaur Badal, (Akali Dal) coming second with 108 Crore worth asserts.
Out of 44 ministers, eight (18 percent) Ministers have declared that have an education qualification of 12th pass or below while 35 (80 percent) Ministers have declared having an educational qualification of graduate or above.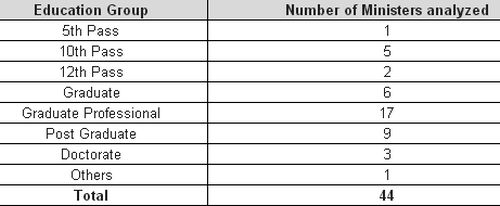 National Election Watch (NEW) and Association for Democratic Reforms (ADR) had sent a letter to the Prime Minister Narendra Modi, on the 20th of May, 2014 bringing to his notice the disturbing fact that the newly formed 16th Lok Sabha has a sizeable number of MPs (112 i.e. 21%) facing serious criminal charges and requesting him to include only clean representatives in his Cabinet.