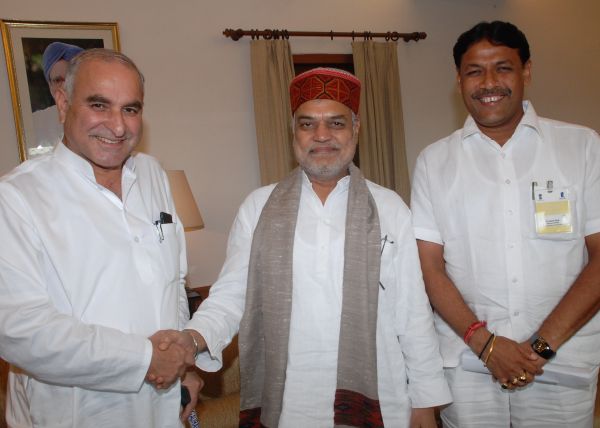 Himachal Pradesh Government requested the Central Government to declare five new national highways in the State to strengthen road network in rural areas. The demand was made by Public Works Minister Thakur Gulab Singh in a meeting with Union Surface Transport Minister C. P. Joshi in New Delhi.
Public Works Minister requested the Union Minister to declare Hamirpur-Palampur-Sujanpur, Brahmpukhar–Bilaspur–Ghumarwin- Sarkaghat-Ladbharol-Baijnath, Pathankot–Dalhousie–Chamba-Bharmour, Taradevi–Jubarhatti- Kunihar–Ramshahar-Nalagarh-Ghamouli, Chandigarh—Pokhar-Nalagarh-Ramshahar-Rrki -Shalaghat roads as national highways.
He said that Central Government has already conveyed its principle approval for declaring all these roads as national highways, however the formal notifications has not been issued so far and requested the Union Government to expedite the matter at the earliest so as funds for these roads could be released immediately.
Thakur Gulab Singh also requested the Union Minister to provide financial assistance for constructions of by passes at Jogindernagar, Sundernagar and Theog to decongest the cities from heavy traffic, which has created problems for common citizens. He said that detailed project report in these by passes has already been submitted to the ministry which is pending for final approval.
He informed the union minister that road transport in only viable transport medium for hilly people in absence of any significant rail or air network of the State and stressed the need to strengthen the road network to provide connectivity to the people and also ensure the transportation of cash crops and fruits to the national market from rural and remote areas of the states which produces high quality consumable products for metropolitan consumers.