Himachal Pradesh Chief Minister Jai Ram Thakur confident to repeat Narender Modi led Union Government and assured to fulfil the resolve to form the Himachal Regiment after the formation of a new government.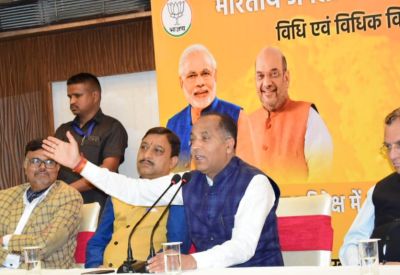 The BJP has passed a resolution in this regard in the state Assembly demanding that the Himachal Regiment or Himalayan Regiment should be constituted in view of the sacrifices of the soldiers of Himachal for mother India. He said that the BJP has always been very sensitive to the interests of the soldiers and the implementation of "One Rank One Pension" by the Modi government is the example of it.
Thakur said the country is indebted to the heroic soldiers of Himachal Pradesh who made supreme sacrifices during the wars and maintaining the peace in the country and safeguarding the frontiers of the nation. He said
"The youth of Himachal always prefer to join the Indian army as they have great zeal to serve the country. Major Somnath Sharma who hailed from Himachal Pradesh was the recipient of the first Param Vir Chakra posthumously who sacrificed his life during the war with Pakistan. Brave soldiers of the state made many sacrifices during various wars and during the Kargil war, two soldiers of Himachal were honoured with the Param Vir Chakra"
Jai Ram Thakur said that the BJP highly respect the sacrifices of soldiers. Former Prime Minister Atal Bihari Vajpayee for the first time in the history arranged to send the martyr soldiers of the Kargil war with utmost honour to their homes for funeral. Earlier, during the period of Congress governments, only cap and belt of the martyred soldiers used to be sent to their family.
The Chief Minister said that since independence soldiers were demanding a one rank-one pension and prior to the last Lok Sabha elections, the BJP had promised ex-servicemen that after the formation of the BJP government at the center, their demand will be met. The Modi government has fulfilled its promise. Now after winning all the four Lok Sabha seats of the state, the BJP MPs will make a strong effort to meet the demand of the Himachal Regiment. This will give more opportunities to the youngsters of Himachal Pradesh to join the army. He said that there are thousands of families of Kangra, Hamirpur and Bilaspur districts etc. whose family members are serving the country by joining the army. He said that the BJP is also sensitive to their interests.