Shimla: Once a BJP strongman and now Indian National Congress leader Suresh Chandel has claimed that BJP has deviated from its core principle and its work culture has completely changed. Addressing media at Congress office Shimla, Chandel raised serious question over the working of the government and blamed it for registering political cases on its opponent during the Lok Sabha Election.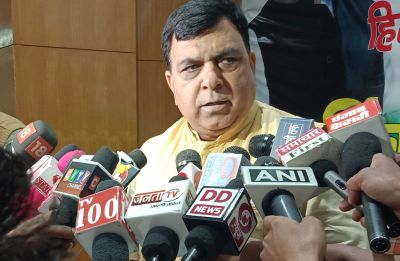 When asked about his leaving BJP, Chandel clarified that he was sidelined within the party after failing to find his place he left the BJP and joined Congress. Chandel, former BJP state president and 3 times parliamentarian from Hamirpur constituency, had left BJP on 19th April 2019 and joined Congress.
In his maiden media interaction in Shimla after joining Indian National Congress, Suresh Chandel refrained from making any direct accusation on BJP leaders and Union Govt, however, he doubts over the performance of the Modi Govt and blamed it for failing to address key issues like employment generation, raising the issue of farmers etc. He claimed that the despite tall claims from the BJP farmers are still in distress. He said that the unemployment has increased in last five years and as per data it was recorded 6.1 percent in June 2018 that is highest in last 45 years.
Commenting on the political cases on opposition leaders, Chandel, pitched for healthy democracy. He said that ruling and opposition party need to walk together to ensure healthy democracy and ensure even development of all section of the society.
Taking jibe at the Member of Parliament and present BJP candidate Ramswaroop Sharma over not filing income tax return, Chandel said that it shows the seriousness of a leader. He said that sitting MPs' were absent from their segment after winning the election and now in election eve they are seeking votes.
He advised Election Commission to quell the doubts over the EVM and advised to count the VVPAT on selected booths or constituency to once again reinforce the belief in the democratic set up.