51, 59,000 voters are in the State. 59 third gender voters will exercise their franchise
The Chief Electoral Officer of the State Devesh Kumar today said that in the view of relevance and special needs of the senior citizens in the State, participation of this important category in the Lok Sabha Election-2019 would be enhanced through various awareness programmes.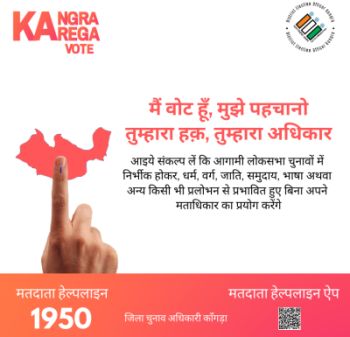 Identification of Senior citizens through existing mechanism, for example pension scheme, to facilitate them for registration and vote in coordination in the officer of District Welfare Officer/Tehsil Welfare Officer would be done.
Devesh Kumar said that awareness related to procedures available for registration of service electors will be given a special emphasis. Special awareness and registration camps for Defense Personnel have been organized in the State. Concerned Nodal Officers were given training to disseminate information on Elections and Voting.
Election for four parliamentary seats are scheduled to be held on 19 May 2019 i.e. seventh and last phase of the election. Last date of filling nomination is 29 April 2019 and candidate can withdrew his/her candidate by 2nd April 2019.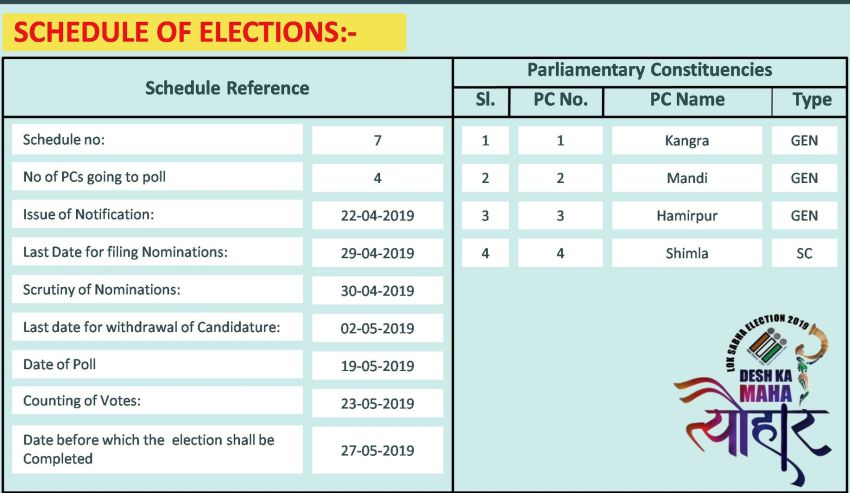 In the Lok Sabha Elections 2019 – total 51, 59,000 voters are in the State. Out of these, 26, 45,584 are males and 25, 13,357 are female voters. In this election 59 third gender voters will be exercising their franchising. There are 62,131 service electors.
The election commission has set up 7723 voting centers in the State. The highest polling station in the World is now Tashigang in Kinnaur district of the state.
In the Lok Sabha Election 2014, BJP backed candidates had swept the poll by winning all four segments.