Shimla: Himachal Pradesh Chief Minister Jai Ram Thakur presented budget in vidhan sabha today. Ruling BJP has hailed the budget while opposition Congress and CPM termed Budget directionless and poll oriented.
Congress state president Kuldeep Singh Rathore stated that the budget is directionless and 'Jumla budget.' He claimed that the budget has no focus on resource generation for improving economic condition of the state. Thakur said that budget has failed to meet the need farmers and fruit growers as well.
Similarly state CPM termed the budget illusionary. CPM stated the govt. has left a fiscal deficit of Rs.12000 crores for the state budget of 2018-19 and 2019-20. This Rs.12000 crores deficit will be recovered by taking loans which would result in inflation and price rise. The people would be burdened by the price rise, in other words the govt. is giving relief with one hand and with the other taking it back.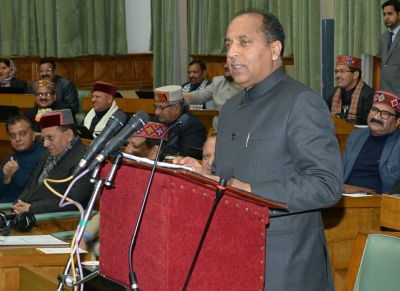 Meanwhile, the BJP leader has hailed the budget and termed it progressive and has ensured welfare of every section of the society.
Irrigation and Public Health Minister Mahender Thakur said the budget has maximum budget provision for Irrigation Public Health and Horticulture. He thanked Chief Minister Jai Ram Thakur for increasing honorarium of water Guards that have been increased from Rs.2100 to Rs. 3000, and Para Pump Operators and Para Fitters increased from Rs. 3000 to Rs. 4000. He also thanked Chef Minister for providing Budget provision of Rs. 1948 crore for drinking water in budget for the financial year 2019-20.
He said that the budget have underscored the State Government dedication to the aspirations of the states youth by providing 20,000 functioning Posts to be filled in financial year 2019-20.
Health Minister Vipin Singh Parmar appreciated the State government of providing 10 percent reservations to economically weaker sections of general category in employment and educational institutions.
He said that the decision of providing one additional free of cost LPG refill cylinder to the benificaries of Himachal Grihani Suvidha Yojna and Ujjwala Yojana is going to benefit Two Lakh families.
He said enhancing the social security pension from Rs. 750 to Rs. 850 per month and pension to persons having 70 percent and above disabilities and persons aged 70 years and above from Rs. 1300 Rs. 1,500 per month were the major initiatives of the government. He also appreciated the decisions of increase daily wages from Rs. 225 to Rs. 250 per day, enhance in emoluments of contract employees and increase in honorarium of Mini Anganwari workers, Mid-Day Meal Workers and Helpers Water Guards Carriers in schools, SMC teachers, ASHA workers, Anganwari workers, Revenue Chowkidars ,SPOs and Para Fitters.
He appreciated the decision of upgradation of 500 Health Sib Centres and 125 Primary Health Centers to Health and wellness Centres. They said that this will be beneficial for providing better health Care facilities to people nearer to their home.They also appreciated the decision of upgradation of 12 Health instititions under Sampurna Swasthya Yojana and establishment of Cath Lab in Lal Bahadur Shastri Medical College Mandi and Dr. Y.S. Parmar Medical College, Naghan.
Health Minister hailed the starting of Sahara scheme, under which financial assistance of Rs. 2000 per month to be given to patients suffering from grievous and debilitating conditions as such as Parkinson's, cancer, Paralysis, Muscular Dystrophy, Hemophilia, Thalassemia, Renal failure etc.
He have appreciated the decision of increased Diet allowance of people infected with HIV (AIDS) will be increased to Rs. 1500 per month and under "Janani Suraksha Yojana financial assistance have also been increased to Rs. 1,100.