Himachal Pradesh Chief Minister pitched for common platform for raising the issues of common interest before the Union Government for overall development of the Himalayan States.
Chief Minister Jai Ram Thakur, while addressing the 'Conclave of Himalayan States' organized by the HP State Council for Science, Technology and Environment in partnership with the Integrated Mountain Initiative and the Shoolini University, Solan on the theme 'Well Being of the next Generation of Himalayan People' said that Prime Minister Narendra Modi was aware of the developmental needs of the Himalayan States thus several new schemes aimed at the development of hilly areas have been launched by the Union Government.
He said that this Conclave would go a long way in calling out a joint strategy for development of three key sectors viz Agriculture, Tourism and Power Generation. Eleven Himalayan States of the country and Nepal participated in this conclave.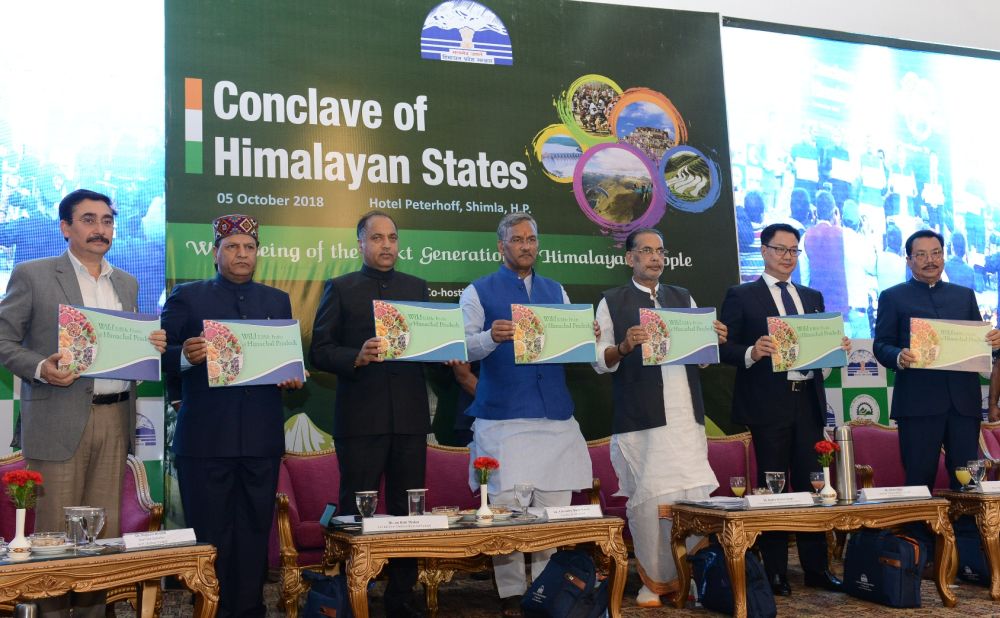 Jai Ram Thakur said that hydro power sector was vital for the development and growth of the Himalayan States. He said that still these states were facing some bottlenecks, both natural as well as other. He said that effects of climate change on precipitation pattern and hydrological regime were most critical to hydropower generation, especially in the Indian Himalayan region, thus Himalayan states need to explore the unconventional adaptation route driven by human and capital investment in Science and Technology that has to be innovative and tailored to different terrains and topography.
He said that persistent cause of concern has been fast melting Himalayan glaciers leading to an increase in number and size of Glacial Lake Outburst Floods, which are not only dangerous for those residing downstream, but also challenges the sustainability of hydro power in hilly states. He said that hydro power infrastructure in the State faces pressing risk from increased flooding, landslides, sedimentations, and dangers from extreme weather events.
Jai Ram Thakur said that all the Himalayan States should collectively urge the Centre to place the hydro-electricity project under the renewable energy category, since most of the projects were run of the river type which causes almost no damage to environment.
The Chief Minister said that almost 90 per cent reside in rural areas in Himachal and 58 per cent of these rely on agriculture as a source of their household income and employment. He said that the farmers continue to survive on fragmented landholdings, in some cases even less than a hectare, which was insufficient to ensure food and income security leave aside capacity for adaption to climate change impact.
Union Agriculture Minister Radha Mohan Singh said that the Himalayan States also have great potential by adopting zero budget natural farming for value adding to their produce. The Minister said that as many as 26 CA Stores have been set up in Himachal Pradesh, Jammu and Kashmir and Uttrakhand with a total capacity of one lakh MT under National Horticulture Mission. Similarly, 20 Processing units have been established in North Eastern States, he added. He said that Sikkim state has taken a lead in organic farming which has actually transformed the economy of the farmers of the State.
Union Minister of State for Home Kiren Rijiju said that the Himalayan States have their own cultural, social and religious identity which should be conserved at any cost. He said that he would fully support the resolution adopted in the Conclave. He said that due to its natural beauty the Himalayan States have immense tourism potential which needed to fully harnessed.
The first Session had Agriculture as theme which was chaired by Union Agriculture Minister Radha Mohan Singh and co-chaired by Chief Minister Uttarakhand Trivendra Singh Rawat. Agriculture Ministers of Himachal, Manipur, Uttarakhand, Sikkim and Jammu and Kashmir were panelists in this session.
The second Session had Hydro Power as theme which was chaired by Chief Minister Jai Ram Thakur with Dy. Chief Minister Arunachal Pradesh Chowna Mein, MP Tripura Jitender Chaudhary, Principal Secretary MPP and Power, H.P. Prabodh Saxena, Secretary Forests Jammu and Kashmir Manoj K. Dwivedi and Chief Secretary (Retd.) Nagaland Alemtemshi Jamir were panelists in this session. Additional Chief Secretary H.P. Dr. Shrikant Baldi was Moderator of the session.
The theme for the last session was 'Tourism' which was presided over by the Union Minister of State for Home Kiren Rijiju with Forest Minister Nagaland C.M. Chang, Tourism Minister of Meghalaya Metbah Lyngdoh, MP Uttarakhand Ramesh Pokhriyan, MP of Manipur Dr. Thokchom Meinya, Member of Parliament Himachal Virender Kashyap, MP Uttarakhand. Mala Rajya Laxmi Shah and ACS Tourism and Agriculture Tripura Dr. GSG Ayyangar were panelists in this session.
Joint Secretary and Advisor NITI Ayog Shri Vikram Singh made a presentation on Economic Significance of Tourism.