Kullu: Himachal Chief Minister Jai Ram Thakur announced reduction in minimum bus fare from Rs. 6 to Rs. 5. He made this announcement while addressing the media on the sidelines of 'Abhiyas Varg', the meeting of BJP workers of Mandi Parliamentary Constituency held at Dev Sadan in Kullu today.
Jai Ram Thakur said the previous State Government increased the bus fare soon after assuming office by 30 percent, but the present State Government enhanced the fare by just 20.69 per cent so that people were not burdened unnecessarily.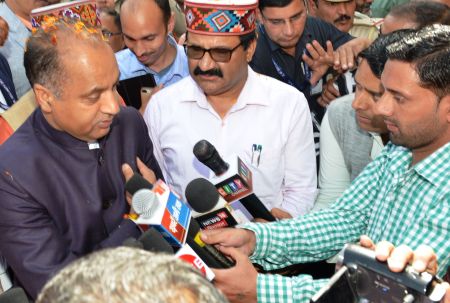 He said that now, in order to facilitate the commuters, the State Government has further reduced the minimum fare for Rs. 6 to Rs. 5.
The Chief Minister said that the State Government has recently reduced the price of diesel and petrol by Rs 2.50 per litre to benefit the people. He said that the Government of India has also slashed the price of diesel and petrol by Rs 2.50 per litre. These decisions have provided much needed relief to the people of the State as diesel and petrol were now cheaper by Rs. 5 per litre in the State.
Following the increasing prices of fuel the state government had increased the bus fare 24.44 percent in plain areas and 20.69 percent in hilly areas in all categories of services i.e. Ordinary buses, Deluxe buses and Volvo buses. The government had also increased the minimal bus fare to Rs. 6 for maximum distance of three kms.
Following the increase in bus fare, opposition parties has slammed the decision and accused the state government for putting unnecessary financial burden on the common people.