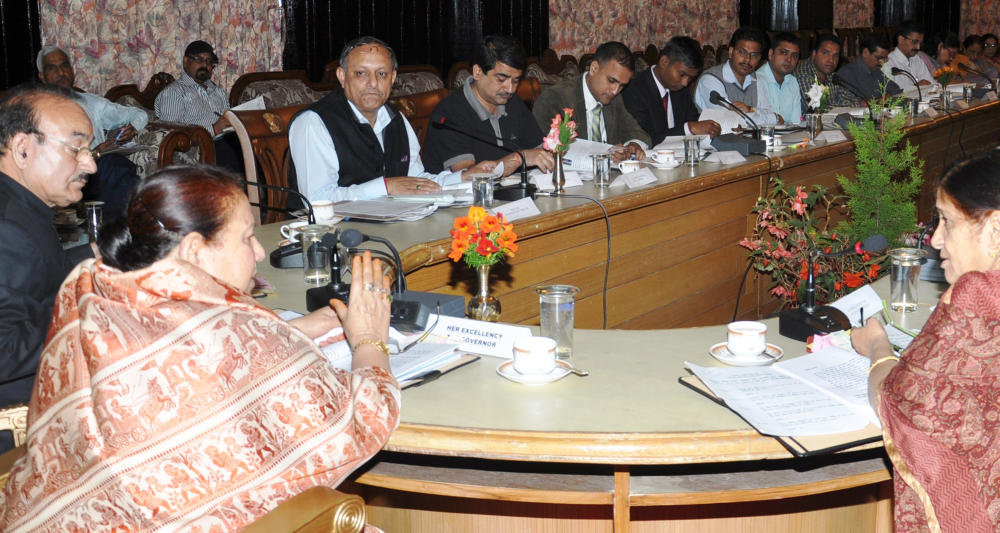 Governor Urmila Singh asked Youth Red Cross wing to actively participate in promoting and speeding up the humanitarian activities in the state. She was addressing the Annual General Meeting of the State Red Cross Society at Rajbhawan here today.
Governor, who is also the President of H P State Red Cross Society, announced enhancement of honorarium of volunteers to Rs 10,000 per month and dearness allowance to the employees of State Red Cross Society with effect from year 2010.
Singh suggested that youth Red Cross wings could be very effective in educational institutions and youth volunteers could play a significant role not only for day to day Red Cross activities but also during natural disasters and other emergent situations. She said that being a hilly state, Himachal Pradesh was prone to natural disasters and disaster management mechanism should be very strong in the State and proper focus should be laid on training volunteers for any such occurrences.
Governor stressed upon holding regular blood donation camps by the State and district units to facilitate the availability of blood in blood banks across the State so that precious lives could be saved in time.
She underlined the need for expansion of scope of Red Cross activities and added that apart from providing financial assistance to poor and needy for treatment purposes, efforts should be made to generate health awareness besides coming forward to help the poor and under-privileged in society through liberal donations. She said that help of corporate sector should be sought for achieving this objective which would go a long way in supplementing the humanitarian activities being undertaken by the State Red Cross Society.
Singh said that proposal was under consideration for constructing old age home at Dhalli and added that district societies should also come up with such innovative proposals to utilise lands under their possession for promoting activities that could benefit the poor and deserving sections of the society.
Governor honoured representative of Deputy Commissioner Lahaul and Spiti for best performance in respect of submission of State Red Cross Share.
Kaul Singh Thakur Health and Family Welfare Minister who is also the Chairman of State Red Cross Managing Committee directed the Deputy Commissioners to accelerate the pace of Red Cross activities at district level to strengthen the State activities and ensure timely submission of State share of funds.
Health and Family Welfare Minister also underlined the need for active participation of Deputy Commissioners for strengthening District Red Cross Societies. He said that they should focus upon income generating activities for strengthening financial position of the units.
Anita Tegta, Secretary to Governor and General Secretary, State Red Cross Society conducted the proceedings of the meeting and apprised the Governor and Health and Family Welfare Minister about the activities of the Red Cross.
Deputy Commissioners, Members of Executive Committee, H.P. Red Cross Hospital Welfare Section, Official and Non Official Members of State Red Cross also gave their valuable inputs regarding income generation for State Red Cross.
P. S. Rana, Secretary, State Red Cross, Officers of various departments and staff of State Red Cross attended the meeting.