Shimla: Himachal Pradesh Chief Minister Jai Ram Thakur today presented a revenue deficit budget of Rs 41,440 crore for the year 2018-19.
The Total Budget Expenditure estimated for 2018-19 is Rs. 41,440 crore, out of which Estimated Expenditure on Salaries is Rs. 11,263 crore, on Pensions it would be Rs. 5,893 crore. Estimated Interest Payments would be Rs. 4,260 crore, and Loan Repayments are expected to be Rs. 3,184 crore apart from Rs. 448 crore on other Loans and Rs. 2,741 crore on Maintenance.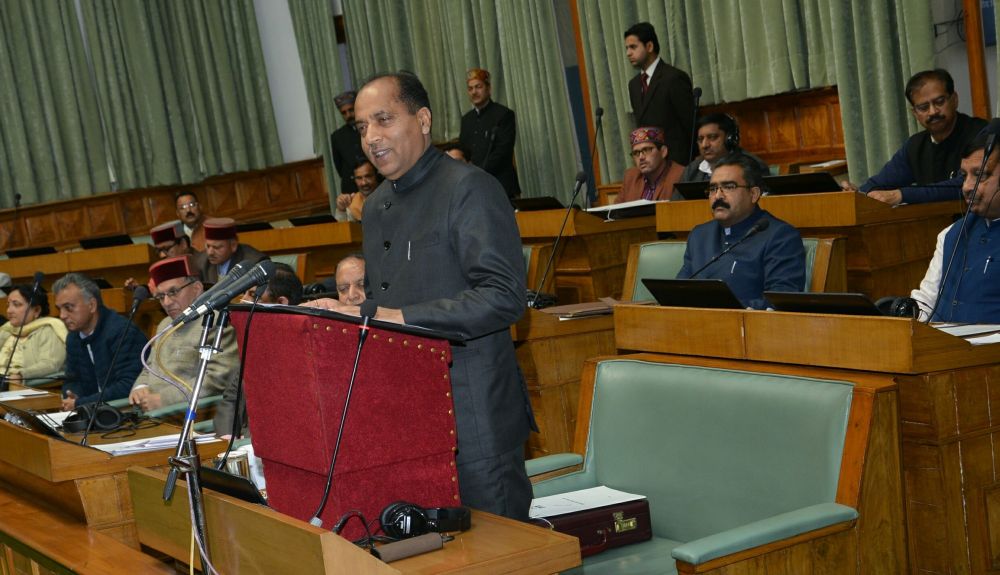 As per Budget Estimates, the total Revenue Receipts are estimated at Rs. 30,400 crore and the total Revenue Expenditure is estimated to be Rs. 33,568 crore with a revenue Deficit of Rs. 3,168 crore.
The expected Receipts in capital Account of the Government are Rs. 6,540 crore apart from Rs. 1,225 crore in Public Account including Provident Fund, etc. Capital Expenditure including Loan Repayments is estimated to be Rs. 7,872 crore. The fiscal deficit for 2018-19 is likely to be Rs. 7,821 crore.
The estimated interest payments would be Rs 4,260 crore and loan payments are expected to be Rs 3,184 crore, apart from Rs 448 crore on other loans and Rs 2,741 crore on maintenance, said Thakur in his maiden budget speech in Hindi which lasted over two-and-half hours.
As per the Revised Estimates for 2017-18, the revenue Deficit will be 1.93 percent and Fiscal Deficit will be 5.46 percent of GSDP. In 2018-19, the revenue Deficit will be 2.09 percent and Fiscal deficit will be 5.16 percent of GSDP.
As per the Budget Estimates, against an expenditure of every 100 rupees, the State will have 73.36 as the Total Receipt including Transfers from the Central government excluding Loans. The gap of 26.64 will be met by borrowings.
Out of every 100 rupees of State Revenue Receipts 27.13 will accrue from Own Tax revenues, 6.52 from Non-Tax Revenues 21.01 from Share in Central Taxes and 45.34 from Central Grants. out of every 100 rupees spent, salaries will account for 27.18, Pensions for 14.22, Interest Payments for 10.28, Loan Repayments for 8.76 and the remaining 39.56 will be spent on Developmental works.