Shimla: Himachal Pradesh Chief Minister Jai Ram Thakur today presented his maiden budget in the state assembly and announced to start "e-stamping" system for non-judicial stamp papers. At present stamps are issued either by Treasuries or by authorized bank branches.
Under new system, Citizen will be able to generate the stamp on their own through the online system at home/office without need to visit treasury or banks. The Registering authority will be able to verify the challan online.
It was Jai Ram Thakur's first budget, in his maiden budget he tried to focus on strengthening the agriculture and horticulture sectors by promising to double the income of farmers by 2022. The Chief Minister announced launching of 28 schemes with emphasis on education, women's empowerment, job creation and tourism.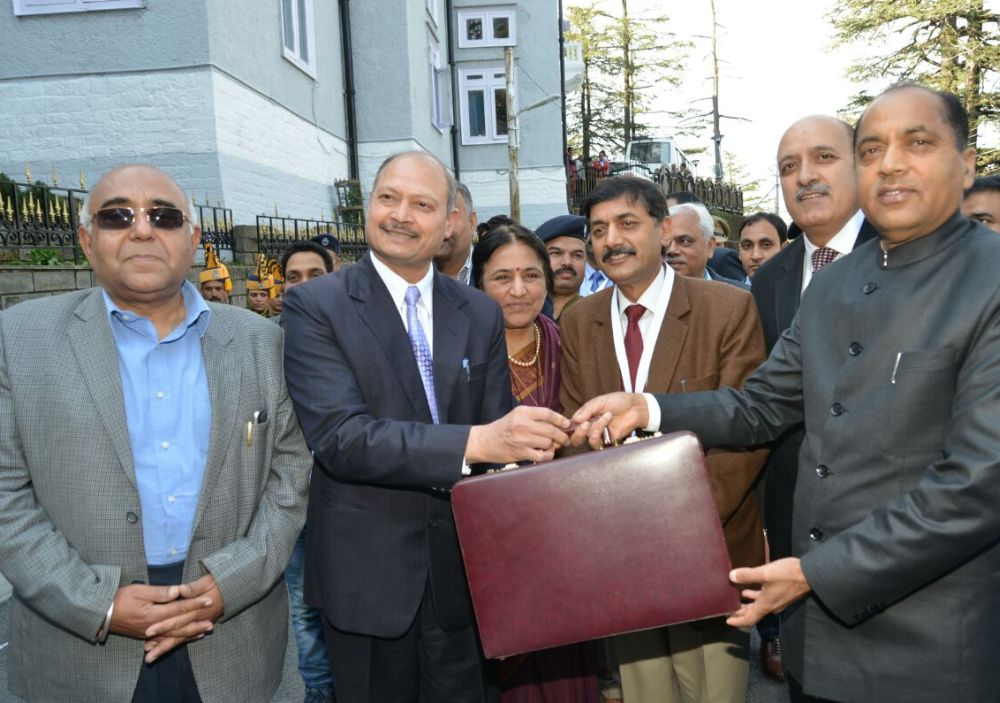 The Horticulture sector playing an important role in the livelihood of the people and economy of the State. And to ensure sustainable growth in Horticulture by giving adequate thrust on the productivity enhancement. Under the World Bank funded Horticulture Development Project of Rs. 1,134 crore, the government proposed to utilize nearly Rs. 100 crore for setting up of orchards of high yielding varieties of apple, mango litchi, Guava, Citrus, field training to technical staff of the department by the experts from New Zealand in advanced technologies of canopy and floor management.
The government has also made provision of importing 3.70 lakh plants of high yielding varieties of Apple grafted on colonel rootstocks in the budget, CA cold storage, grading and packing houses and development of market yards and setting up of two centres of excellence in Shilaroo and Palampur is also featured in the Jai Ram Thakur's budget.
Irrigation facility in all clusters also mentioned in the Budget.
In Himachal Pradesh, 66.5 percent of the total geographical area is classified as Forest land. The CM in his budget speech announced to establish 22 Van Vihars/eco parks with funding support from State CAMPA during the next three years. In the current financial year, at-least 25 new sites will be allotted for development of eco-tourism.
The Chil forests are found in large tracts in the State which are highly prone to fire. Therefore, in order to protect Chil forests from fire, the CM announced 50 percent subsidy for establishing pine needle based industries.
Cluster based Solid Waste Management Plants in five towns
The Chief Minister announced to set up cluster based Solid Waste Management Plants in Baddi, Mandi, Dharamshala, Kangra and Manali towns.
To improve urban Governance, the government is to operationalize client friendly online Building Planning Approval System in all the 54 Urban Local Bodies in the State to facilitate common citizens in obtaining building permissions.
Most of cities in the state are feeling the pinch of ever increasing traffic congestion and in order to ease congestion of vehicles, the CM announced to start the construction of Parkings on PPP mode. Government will also provide 50 percent grant to Urban Local Bodies who intend to construct parking.
Employment generation in Transport sector
The transport sector, especially the road transport has a vast potential of creating employment opportunities to the local youth living in the rural areas of the State. The Chief Minister proposed to provide 1,500 new bus permits to unemployed youth of the State during 2018-19.
The Chief Minister also proposed to enhance the target of tarring of existing State roads from 1,785 kilometers to 2,500 Kilometers for the year 2018-19, which is an enhancement of nearly 40 percent. A provision of additional Rs. 100 crore has been made during the financial year 2017-18 and Rs. 100 crore is proposed to be provided in the budget during 2018-19 for maintenance of the existing roads.
Dedicated fund for maintenance of roads is also proposed in the budget 2018-19. A new Scheme "Himachal Road Improvement Scheme" is also announced to fill the gaps in cross drainage of the existing roads.
Language labs in schools to increase reading skills
To improve the quality of education, the State Government will provide adequate infrastructure in the educational institutions. 2,137 Government Senior Secondary and High Schools have been equipped with the smart class rooms. The State Government will ensure that the teaching learning activities in these schools take place through multimedia teaching aids. The Government will establish 36 language labs in schools to increase reading/ pronunciation skills.
CM launches Economic Survey and Budget App
Chief Minister Jai Ram Thakur today launched two Android Mobile Applications developed and powered by HP National Informatics Centre (NIC) here at Vidhan Sabha. The apps contains the latest economic survey besides the budget 2018-19, which provides easy access to the figures, and will be available by the name 'Budget Himachal Pradesh' and 'Economic Survey Himachal Pradesh' on google play.
Rs. 4,082 crore of budget outlay is proposed for the Public Works Department during 2018-19.
Rs. 7,044 crore proposed for Department of Education for 2018-19.
Rs. 2,302 crore proposed for Health and Medical Education Department.
Rs. 263 crore proposed for Ayurveda during 2018-19.
Rs. 1,583 crore proposed under Scheduled Caste Sub-Plan for 2018-19.
Rs. 1,620 crore proposed for tribal areas including the Non-Plan.
Rs. 1,430 crore proposed for the Department of Home i.e. Police, Home Guards, Fire Services and Prisons.