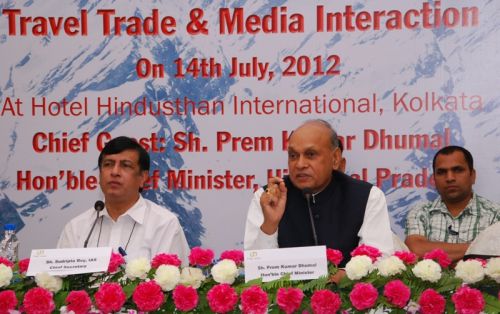 Chief Minister Prem Kumar Dhumal in an interactive session in Traveland Tourism Fair at Kolkata, organised by Department of Tourism and Civil Aviation, Himachal Pradesh urged the entrepreneurs to invest in tourism sector in Himachal Pradesh as State has tremendous potential for the same.
Chief Minister said that Himachal Pradesh had undertaken a plan amounting to Rs. 429 crore for infrastructure development to facilitate the investors and also developing tourism sector which would give big boost to tourism in the State. He said that Himachal Pradesh was a best choice for investors in tourism for all reasons and all seasons keeping in view varied climatic, scenic beauty and above all peaceful law and order situation.
Prof. Dhumal said that Himachal Pradesh had introduced various ambitious schemes to attract the tourists in last four and a half years. The important among these were 'Har Gaon Ki Kahani', 'Har Ghar Kuchh Kehata Hai', Home Stay Scheme etc. He said that it also had vast scope for investment in adventure tourism, nature tourism and historic tourism.
During the interaction, Chief Minister allayed the fears of the investors about uncertainty in investment and said that Himachal Pradesh had set up an Authority under which all clearances were being provided under Single Window. A large number of entrepreneurs responded in 'Road Show' organized by the State Government at Kolkata by Tourism and Civil Aviation Department.
Chief Secretary Shri S. Roy gave a presentation about the opportunities for investment in tourism sector in Himachal Pradesh and also facilities and incentives being given by the State Government. Arun Sharma, Director, Tourism and Civil Aviation Department also responded to some of the queries during the Road Show.