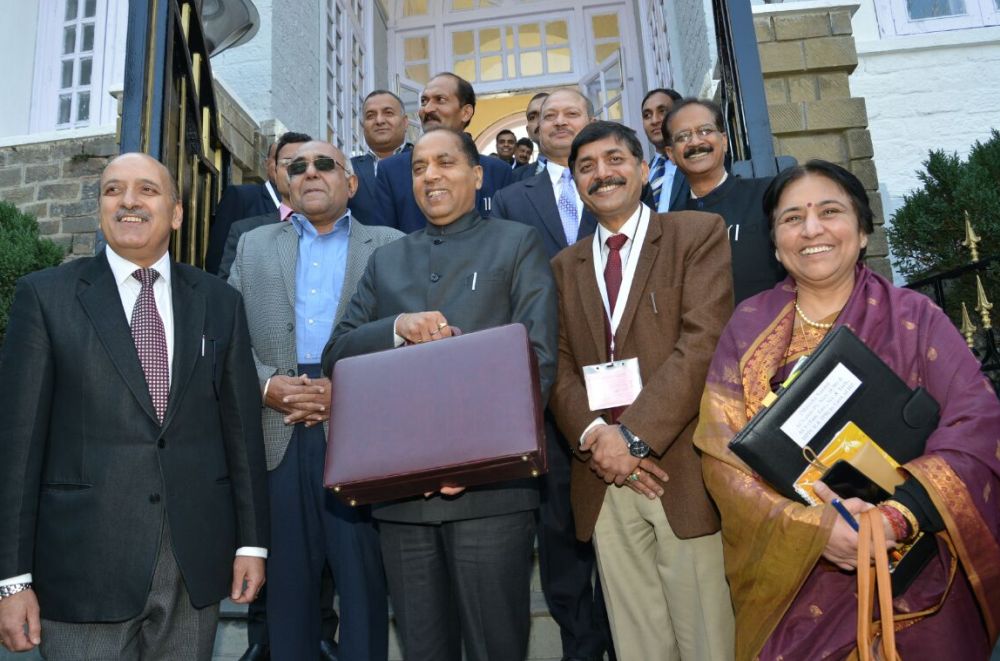 Shimla: Himachal Pradesh Chief Minister today presented Budget 2018-19 in the Vidhan Sabha. It was new Government's first budget after coming in the power in the state. It was first budget of Chief Minister jai Ram Thakur as well.
The Chief Minister, in his first Budget, assured the people of the state that with the help of Union Government the pace of development will leap in Himachal. Jai Ram Thakur said that his government has set guiding principles viz. Good governance to the people by improved service delivery, Transformation of the rural farm/horticulture economy to double the farmers' income, Livelihood and employment generation for youth, Restoring Law and Order, Housing for all the houseless, Control over drug, mining and forest mafias, Effective and affordable Health Service Delivery, Providing quality education, Empowerment of women, Promotion of investment by simplification of procedures, Bridging the infrastructure gap, Re-vitalize the hydro, tourism and trade sectors, Social security for old age, women and disabled, Upliftment of vulnerable sections, Safe drinking water for all households in the State, Connectivity to all the Panchayats with motorable roads.
Adoption of BJP 'Drishtipatra' as the policy document to guide the development policies of the present Government.
Lowering the age from 80 years to 70 years for providing old age pension to all, without any income limit.
Gudia & Hoshiar Singh helplines and 'Shakti App' launched.
New "Mukhyamantri Lok Bhawan" Scheme launched for constructing Community Bhawan with an outlay of Rs. 30 lakh in every constituency.
Grant under "Vidhayak Khsetra Vikaas Nidhi Yojana" raised to Rs. 1.25 crore.
Discretionary grant raised to Rs. 7 lakh.
Public Works and IPH will roll out Works Management Information System.
New e-stamping system will be launched.
All the tenders above Rs. 5 lakh will be carried out online using e-Procurement portal.
Budget provision of Rs. 220 crore under state food subsidy scheme.
New "Himachal Grihni Sudhar Yojna" will be launched for women empowerment and environment conservation.
Under the World Bank funded Horticulture Development Project of Rs. 1,134 crore, nearly Rs. 100 crore to be spent in 2018-19.
Rs. 500 crore to be spent for Command Area Development in five years. A budget provision of Rs. 130 crore in 2018-19.
Rs. 277 crore for Minor Irrigation Schemes. Rs. 85 crore for Medium Irrigation schemes.
New Scheme, "Jal Se Krishi Ko Bal" with a budget of Rs. 250 crore for five years launched.
New "Flow Irrigation Scheme" with an outlay of Rs. 150 crore for next five years launched.
New scheme "Solar Irrigation Scheme" launched with a budget outlay of Rs. 200 crore for next five years.
Electricity to farmers for irrigation purpose to be provided at 75 paisa per unit in place of existing Rs. 1 per unit.
Levy of Certain Goods Carried by Roads(CGCR) on apple, other fruits and vegetables withdrawn from 2018-19.
New scheme "Prakritik Kheti Khushhal Kisan" with an allocation of ` 25 crore will be launched.
Investment subsidy of 50 percent for bio-pesticides plants.
Subsidy of 40 percent on machinery for setting up of "Agriculture Equipment Hiring Centres".
Rs. 32 crore for subsidy to farmers/horticulturists on power weeders and power tillers etc.
Budget provision for anti-hail nets increased from Rs. 2.27 crore to Rs. 10 crore.
60 percent subsidy under new "Baagvani Suraksha Yojna" for anti-hail-guns with budget of Rs. 10 crore.
Subsidy of 85 percent for installing solar fencing by three or more farmers with a budget provision of Rs. 35 crore under "Mukhya Mantri Khet Sanrakshan Yojna".
Rs. 1,000 crore phase-II project under JICA to cover all the Districts for crop diversification.
New scheme, "Himachal Pushp Utpadan Yojna" with an allocation of ` 10 crore launched.
Rs. 29 crore for "Pradhan Mantri Fasal Bima Yojna" and for "Weather Based Insurance Scheme".
Rs. 150 crore proposed for upgradation and opening of new Mandis under World Bank project.
Freight subsidy of Rs. 1 per litre to dairy cooperatives to compensate for collection and distribution of milk.
Enhancement of milk procurement price by Rs. 1 per liter.
10 and 20 percent Additional subsidy under 'Dairy Udhyami Vikas Yojna'
50 percent subsidy to the BPL farmers of general category for rearing Desi cows.
New Mukhyamantri Madhu Vikas Yojna launched with a budget of ` 10 crore for providing 80 percent subsidy.
Exemption on stamp duty and investment subsidy of 50 percent on plant and machinery for establishing of fish feed unit.
Setting up of Gau-Sewa Aayog announced.
Amendment in H.P. Religious Endowments and Temple Trust Act to ear mark at least 15 percent of offerings in the temples towards construction, maintenance and running of Gau-Sadans announced.
Gau Vansh Vikas cess on every bottle of liquor sold in the State collecting Rs. 8 crore per annum.
Government land on token lease of Rs. 1 for setting up of Gau-Sadans.
Award of Rs. 10 lakh to Panchayat free of abandoned cattle.
Houses destroyed due to natural calamities to be provided funds under "Mukhya Mantri Awas Yojna" for reconstruction.
33 percent subsidy on pick-up van to encourage waste collectors in rural areas Gram Gaurav Patt in every panchayat.
No. of days for providing empolyment under MGNREGA increase from 100 to 120 in view of drought for 2018-19.
"Moksh Dhaam" in each panchayat will be constructed in a phased manner.
Rs. 45 crore for members of Zila Parishads and Panchayat Samities for undertaking development activities in their areas.
Rs. 194 crore to the PRIs as per the recommendations of 5th State Finance Commission.
Honourarium of representatives of PRIs and ULBs enhanced.
New scheme "Van Samridhi Jan Samridhi" will be launched to provide livelihood.
Rs. 125 crore for Forest Department under externally aided projects.
New scheme "Samudayik Van Samvardhan Yojna" will be launched.
New scheme "Vidyarthi Van Mitra" launched.
New Yova Vigyan Puraskar scheme to encourage young students towards science launched.
New, "Shresth Shahar Yojna" launched.
"National Generic Document Registration System" for online registration of documents for anywhere registration proposed.
Hand pumps to individual beneficiaries on 75 percent cost.
Rs. 500 crore to IPH for meeting energy charges for water supply and irrigation schemes.
Simplification of various procedures for increasing investments.
Him Pragti" online monitoring system to monitor investment and infrastructure progress to be started.
Policy of partial reimbursement of net SGST paid to be formulated.
Bidding of cement plant at Broh Shind in Chamba District and Nohradhar in Sirmour District.
Budget provision of Rs. 35 crore for BBNDA.
Rs. 4 crore for widening of road between BarotiwalaMandhala-Parwanoo and Barotiwala-Gunnai- Parwanoo.
Electricity Duty reduced from 4 percent to 2 percent on Small industries and 10 percent to 7 percent on medium industries.
Lease of land for industrial plots to be given for 90 years instead of 30 years at present.
No electricity duty on new small and medium industries for first five years.
Necessary changes in the Hydro Power Policy to be carried out.
Equity contribution of Rs. 50 crore to HPSEBL for improving the voltage in rural areas.
Rs. 475 crore for subsidizing electricity to the domestic and Agriculture consumers.
New scheme Nayi Rahe Nayi Manzil announced for development of virgin destinations with a budget provision of Rs. 50 crore.
Proposal for development of basic infrastructure for second phase under ADB project to Government of India.
Heli taxi services to be started and more helipads to be constructed.
A project of ` 100 crore for infrastructure development at religious circuit to be submitted to Government of India under "Swadesh Darshan" scheme.
Religious and adventure tourism to be promoted in a big way.
Pong, Kol and Bhakra reservoirs to be developed for water sports and adventure tourism.
Water Sports, beautification of the area, construction of ghats and reviving of sulphur springs at Tattapani.
Efforts will be made to install ropeway from Sri Anandpur Sahib to Sri Naini Deviji in partnership with Punjab Government.
Exploration of possibilities of installation of ropeways from Dharmkot to Triund, Janjehli to Shikari Mata and other tourist places.
Develop training module for people connected with tourism activities.
New "Mukhya Mantri Swavlamban Yojna" to encourage local entrepreneurship with an outlay of Rs. 80 crore launched.
New 'Mukhya Mantri Yuva Ajivika Yojna" for providing self-employment to Himachali youth in age group of 18-35 years in trade and services launched with an outlay of Rs. 75 crore.
Entrepreneurship development programmes to be organized to stimulate entrepreneurship among youth.
"Deen Dayal Upadhyay Gramin Kaushalya Yojna" will be implemented with an outlay of Rs. 77 crore.
Rs. 100 crore for Skill Development Allowance.
Rs. 300 crore as grant and equity to HRTC.
Installation of electronic display boards at all the bus stands and selected bus stops to display bus timings.
Additional outlay of Rs. 20 crore for construction of Bus Stands and toilets blocks.
Mechanism of third party inspection and Independent Quality Check Squad under Chief Minister Office for ensuring quality of Government construction.
Target of tarring of 2,500 Kilometers of road length. Additional Rs. 100 crore in 2018-19 for maintenance of roads.
A new "Himachal Road Improvement Scheme" started with an outlay of 50 crore for cross drainage.
Invitation of international bidding for keeping the Sachh Pass, Jalori Pass, Khada Pathar and Rohtang Pass open during winters.
R. 50 crore for improving the road alignment, sign boards, parapets etc. at the identified black spots.
Rs. 50 crore for Mukhya Mantri sadak yojna.
"The Himachal Pradesh Settlement of Pending Assessment Cases Bill", 2018 to be laid for the benefit of the dealers.
Setting up of a robust and transparent transfer and posting mechanism for the teachers.
New Mukhyamantri Aadarsh Vidya Kendre Scheme will be launched with an allocation of ` 25 crore for under which 10 residential schools will be constructed.
School bags to be provided to the students of 1st, 3rd, 6th and 9th class under 'Atal Vardi Yojna'.
Atal Tinkering Labs will be set up in selected schools.
A new programme "Akhand Shiksha Jyoti, Mere School se Nikle Moti" to be launched.
New "Medha Protsan Yojna" to be launched for preparing students for competitive exams.
Grant-in-aid of Rs. 110 crore to Himachal Pradesh University.
Vanishing Manuscripts and rare books to be digitized.
New Scheme Aaj Purani Raho se launched.
Rs. 25 crore for construction of indoor auditorium.
Daily allowance to Poets/Writers/Litterateur increased by 50 percent.
New scheme "Dev Bhumi Darshan" to provide transport facility for senior citizens for pilgrimage within the State.
Rs. 15 crore for construction of multipurpose indoor complexes.
Rs. 6.80 crore under "Mukhyamantri Khel Vikas Yojna"
Medical emergency assistance increased from existing Rs. 50 thousand to Rs. 2.5 lakh under the "Himachal Pradesh Patrakar Kalyan Yojna". Withdrawal of present annual income limit announced.
New Savasthya Me Sah to encouragebhagita Yojna to encourage establishment of private allophatic hospital in rural areas launched.
New "Mukhyamantri Nirog Yojna" launched for basic health checkup.
Increase in number of drugs under the free drug policy in all health institutions.
100 percent immunization target for prevention of Measles and Rubella.
Baby kit worth Rs. 1,500 will be provided to all new born under new "Mukhya Mantri Aashirwad Scheme".
Kidney transplant facility will be created in the IGMC.
New Mukhyamantri Chikitsa Sahayta Kosh for assistance to needy poor people of the State having serious ailments constituted.
Assistance under "Mother Teressa Matri Ashray Sambal Yojna" raised to Rs. 5,000 per annum.
Assistance to BPL families under "Beti Hai Anmol Yojna" enhanced to Rs. 12,000.
New comprehensive "Sashakt Mahila Yojna" announced.
Critical care package under "Swasthya Bima Yojna" enhanced from Rs. 1,75,000 to Rs. 2,50,000 for families having one or two girl child. Additional assistance of Rs. 75,000 will be payable to the girls for their medical care.
Social Security pension enhanced to Rs. 750 per month. Pension to persons having 70 percent and above disabilities and persons aged 70 years and above enhanced to Rs. 1,300 per month. Budget provision of Rs. 600 crore for Social Security Pension Schemes.
Establishment of three new women police stations in Solan, Hamirpur and Chamba Districts proposed.
An additional Interim Relief of 4 percent on basic pay/basic pension to regular State Government Employees/Pensioners from 1st July, 2017.
Contact employees to get emoluments equal to basic pay plus double of the grade pay.
Daily wages increased to Rs. 225 per day.
Honorarium of part time Water Carriers, Mid-day-Meal Workers, SMC Teachers, ASHA Workers, Anganwari Workers/Helpers and Water Guards enhanced.
Rs. 65 crore for construction of new residences and Rs. 25 crore for repair of Government residences.
All functional posts in the Departments will be filled up.
Budget provision of Rs. 41,440 crore for 2018-19.