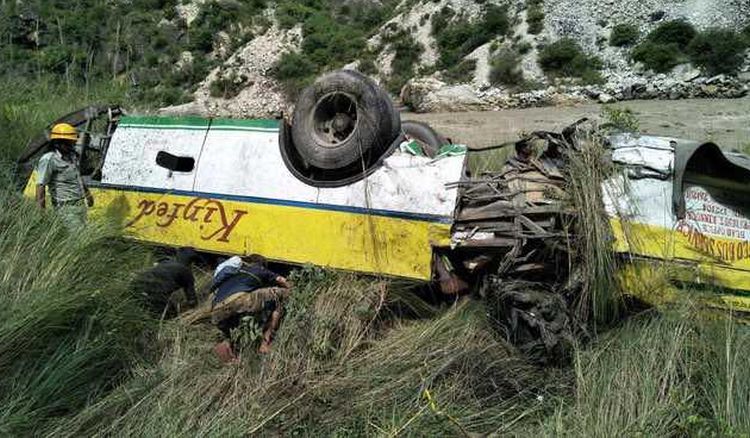 Twenty eight passengers were killed and several other injured when a private bus plunges into gorge at Khaneri near Rampur today morning.
The ill-fated bus HP25B-0335 (Kinfed travels) was on its way to Solan from Reckong Peo in Kinnaur. The cause of the accident is now known yet. Rescue teams comprising officials from police and district administration reached the spot and started the rescue operations.
25 Deceased have been identified as Reeta Devi (30), Jitender Kumar (33), Kamla Devi (60), Leela Devi (41), Shanti Devi (25), Sonika (4), Nisha (38), Leela Devi (76), Rajeev Rana (24), Nikhil (18), Sewa Ram (18), Ram Kishan (30), Charring (52), Arvinder (25), Reena Kumari (24), Tilak Raj, Kaushyala (21), Satya Devi (45), Partap (40), Ramkrishan (40), Shyam Lal (46), Ravinder Kumar, Udhav Singh, Mukh Raj and Rattan Singh.
Nine passengers have been injured in this accident and identified as Jai Gopal (35), Ram Krishan (40), Madan Lal (18), Mohamad Ramzan (30), Surinder (42), Harshitta (4), Chewang Charring (18), Naresh Kumari (18) and Jagdish Driver of the bus.
The district administration has provided Rs. 10,000 each to the next of kin of the deceased as immediate relief. Out of eight injured passengers, four have been referred to IGMC, Shimla.
Himachal Pradesh chief minister Virbhadra Singh directed the authorities to undertake necessary relief measures.
The Prime Minister Narendra Modi has expressed grief on loss of lives in tragic bus accident in Himachal Pradesh. "My thoughts are with those who lost their loved ones in the tragic bus accident in Himachal Pradesh. May those injured recover quickly", the Prime Minister said.
Governor Acharya Devvrat and Chief Minister have expressed deep grief over the death of passengers.
Transport Minister G.S Bali said that directions are issued from time to time to the Drivers of state road transport and private buses to drive safely and once again appealed them to take every best possible care while driving, especially keeping in view the poor weather conditions during rainy season.
The Minister asked the Drivers to maintain speed limit, not to use mobile while driving besides avoiding overloading of the bus. He said the drivers should ensure that bus is taken out of workshop after obtaining fitness certificate and they should not consume any intoxicants or alcohol while performing their duties.