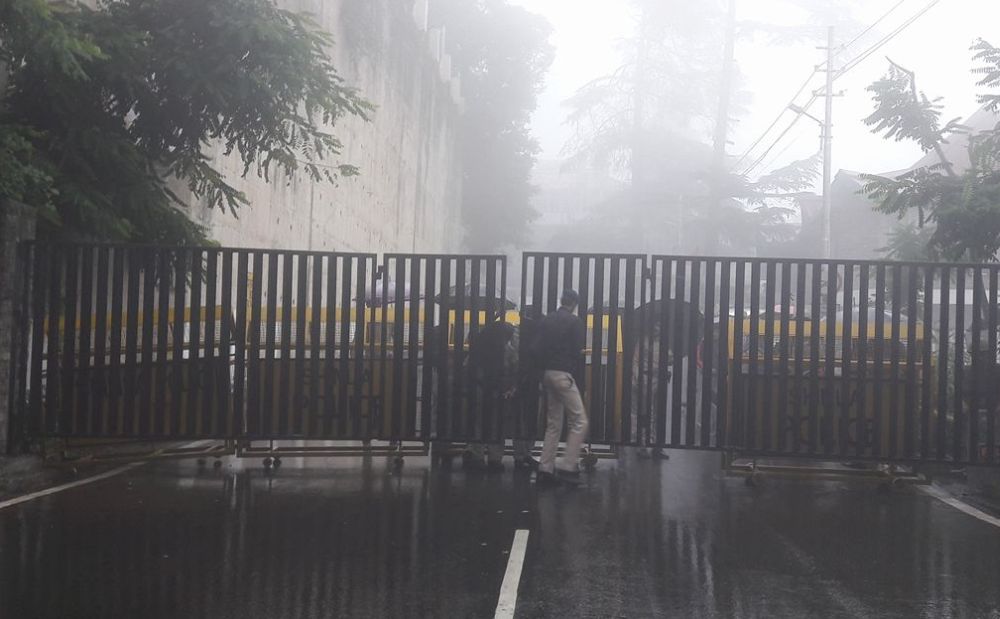 Demanding removal of state government and fair investigation into the Kotkhai Rape and Murder case, the state BJP today observed a total Bandh in Shimla city today. All shops and other commercial establishments remained closed.
Raising slogans against the Congress government, protesters also blocked the busy circular road.
Protestors also marched towards State Secretariat Chotta Shimla, and police closed all entrances to prevent the mob entering the premises. The angry protestors also pelted stones at the secretariat. Thousands of protestors also gathered at the Mall Shimla and demanded action in the case.
The administration deployed heavy police force to avert any untoward incident.
Leader of opposition Prem Kumar Dhumal also participated in the demonstration and announced that protest would continue till justice is done to the minor girl. Blaming government for the inept handling of the case, Dhumal raised questions over the investigation. He said that 16-year-old girl was gang raped and murdered on July 4 and her body was recovered on July 6. But till July 10 there was no action was taken by the state government.
He said that it was following pressure from different organizations that police claimed to have cracked the case and posted the photographs of alleged culprits on the social media. But after a few minutes these posts were deleted, which raising suspicion over the intension of investigating agency. Further arrest of six accused and contradictory statement of police added fuel into the fire and thereafter people staging demonstration, Dhumal further added. BJP leader also condemned the custodian killing and termed it a ploy to tamper with the truth.
Meanwhile Chief Minister Virbhadra Singh today met Governor Acharya Devvrat at Raj Bhawan and apprised him of the steps being taken by the State Government in case.
The Governor asked the Chief Minister to ensure transparent and time bound action in this case, especially keeping in view the public outrage.
Virbhadra Singh assured the Governor that appropriate action will be taken, in this case and no person involved in this heinous crime, will be spared. He said action has been already taken against the police personnel for lapse in their duties, besides transferring the concerned senior officers from immediate effect. He said the state government is very serious over this case and committed to punish the guilty.