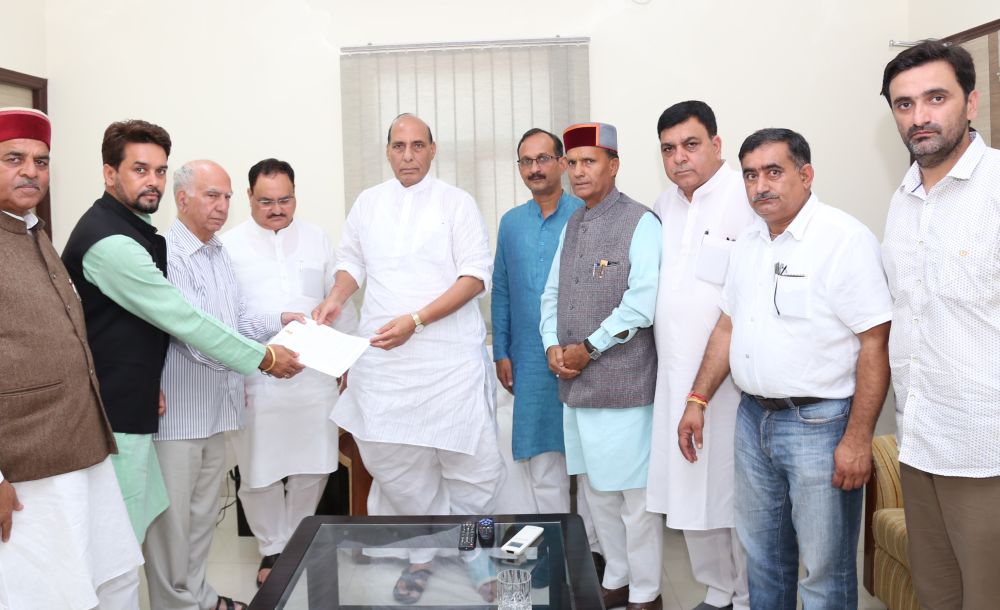 New Delhi: Demanding justice for the victim, Hamirpur parliamentarian Anurag Thakur today raised the issue of Kokhai rape and murder case in the Parliament.
Raising issue in the question hour, Anurag Thakur compared the Kotkhai issue with Nirbhaya case and blamed state government for failing to investigate the case properly. Anurag Thakur informed the house that crime took place on 4th July and victim's body was recovered on 6 July, and till 10 July there was no action taken by the Congress State Government. He claimed
"It was under the pressure of different organizations that police claimed to have cracked the case and posted the photographs of alleged culprits of the case on the Facebook page of the Chief Minister of HP and after a few minutes these were deleted. This raises suspicion that efforts were being made to shield the real culprits. A day later police arrested six other persons and gave their story of the case, which was full of contradictions, and this sparked State vides protests and almost entire State was on boil."
Alleging deteriorating law and order situation in the state, parliamentarians form Himachal Pradesh today met Home Minister Rajnath Singh and demanded immediate dismissal of the state government. In a memorandum, lawmakers claimed the law and order machinery's credibility has never hit so low in the state as has been now. He further stated that the sequence of police action after dastardly act of rape and murder in Kotkhai has brought a dubious distinction of criminal-police-politician nexus to hitherto peaceful hill state. This inhuman crime is the culmination of state government's undeclared policy of sheltering criminals and protecting incompetent and corrupt police officials, Nadda added.
Actions of investigation agency, which are already perceived as doubtful and biased by civil society, the latest incident of murder of one of the co-accused in police custody has further damaged their image. Despite all public ire against the alleged connivance of police officers and personnel with criminals, the state chief minister is constantly reposing faith in their investigations owing to reasons which are anybody's guess now, he added.
The memorandum by delegation further stated that the sooner central agency takes over this case the better it would be to restore public faith in law and order enforcing agencies, which has been seriously dented by police officials associated with the case.
While the CPM has also raised question over the investigations and claimed that people of the state has lost faith in the state police and demanded immediate removal of DGP. CPM leader Sanjay Chauhan said
"Most heinous crime in the peaceful State, Priyanka rape and murder case which has been dealt in a very flimsy and manipulative manner by a section of police involved in investigation since the body was found in forest on 6th July, 2017, This clearly indicates that a section of police is working under the pressure of their political bosses because the real culprits are from influential families and economically very sound having good political relationship with ruling party and others."
CPM also demanded CBI to take over the case immediately and also asked to expose those who are pressurizing the investigation.
Meanwhile, the state Chief Minister Virbhadra Singh has promised to punish the real culprits in the Kotkhai rape and Murder case. He said
"I am sincerely committed to bring the criminals to book and want them to be hanged for the heinous crime they have committed"
Blaming opposition BJP for politicising the matter, Singh said "To play politics on death of a minor girl was shameful, as her soul also won't be able to rest in peace."