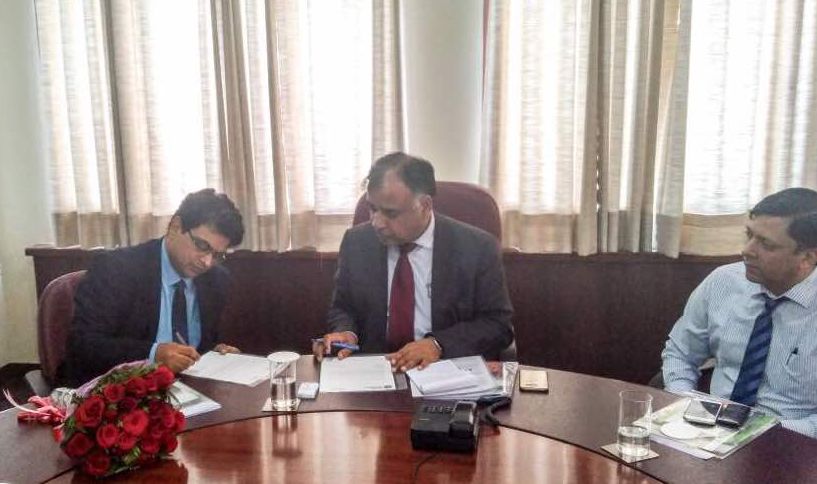 Waknaghat: Bahra University has entered into a collaboration with ICICI Securities Ltd., a subsidiary of the banking giant ICICI, to launch a New Age MBA program.
Vice-Chancellor Bahra University Dr. S.K. Bansal and Neeraj Joshi, National Head from Direct Centre for Financial Learning ICICI, signed the MoU to setup an ICFL's Centre of Excellence in Finance at the University.
Dr. S.K Bansal said that the MBA program would be one of its kinds to be provided by any University. He claimed that new course would be practical where the officials of the ICFL would provide industry inputs and practice based highly updated course curriculum and practical learning on new age subjects' like stocks, derivatives, financial planning and financial modeling to the students.
Throwing more light on the pact Dr. Bansal said the purpose of the MoU is to bridge the gap between industry requirements and academic output by enhancing the competencies of students. He emphasized that the students would get trained by experienced faculty from all over India. Students would acquire specialized skills and knowledge through Globally Recognized Certifications, and would provide an excellent career opportunities for Management students.
In accordance with the MoU – ICFL would deliver seminars and personalized counseling sessions in addition to providing books and reading material to enrolled students. ICFL would visit the University during an ongoing session to have an interaction or take feedback from students enrolled in various programs offered by ICFL.
Earlier this year only, the Bahra University had signed a pact with internet giant Google and industrial giant Siemens Industry Software India Private Limited and started new age programs in engineering and management.
These new-age programs offered B.Tech in Android Development and MBA with emphasis on Digital Marketing in collaboration with Google. For which University has set up a Google Learning Centre of Excellence in the University, and would provide the students opportunities to gain experience with Google's educational tools, learn about innovative instructional strategies and will be able to creatively use technology to enhance learning and actively use them to serve the industry.
On the other hand Siemens Industry Software India Private Limited would assist the University to set up Siemens Certified Professional Learning Center at its campus, University spokesperson stated and further added that the University will start a new batch of 4-year B.Tech, Mechanical with specialization in Design and Development program at their campus. The course will be driven to produce industry ready engineers around broad specializations in industry 4.0 and Smart Factory, design and development, manufacturing and computer aided analysis.