Gondpur Banhera/Una: Himachal Pradesh Chief Minister announced to create posts of Vice Principals would be created in all the Senior Secondary Schools of the State. The Chief Minister, in the 4th regional seminar of Himachal Pradesh Teachers Union (Himachal Pradesh Shikshak Manasangh) at Gondpur Banhera in Una, also announced to change nomenclature of PGT to Lecturers and promised to issue notification soon.
Chief Minister Jai Ram Thakur, stressing for value added education, said that education without value was disastrous both for the society. He said that it becomes the duty of the teachers to inculcate high moral values in the students for a strong and vibrant society.
Thakur advised teachers to educate the students regarding our culture, tradition so that they feels proud of their rich culture and history.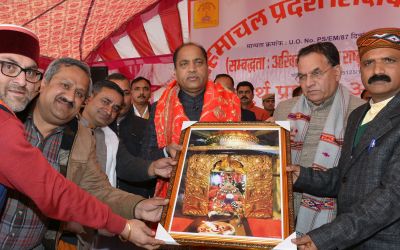 The Chief Minister asked teachers to tab on increasing tendency of cheating among the students during examinations. He said that the teachers should imbibe the value of morality among the students so that they themselves say no to cheat. He said that the teachers should set an example by their conduct and character.
The Chief Minister said that the role of teachers in building a strong and progressive nation was vital. Teachers should also come forward to check the ever increasing menace of drug abuse. He said that the teachers should keep an eye on the changing habits and behaviour of their students.
He announced to open Atal Adarsh Aavasiya Vidyalaya at Gehra Palata in Gagret area of the district. Jai Ram Thakur also announced that Rs. 20 lakh, Rs. 15 lakh, Rs. 10 lakh, and Rs. 15 lakh for construction of buildings of Senior Secondary Schools at Mubarkarpur, Bedhara, Ghanaian and BO office building respectively. He also announced Rs. 10 lakh for construction of ground at Senior Secondary School Gondpur Banhera.
Suresh Bhardwaj said that teachers play a vital role for making our society educated and enlightened. He said that it was knowledge that makes human the supreme animal on the earth and credit of this goes to our teachers. It was due to this fact that the status of teacher in our scripture has been kept at par with the gods. Thus the responsibility of the teachers becomes all the more major.