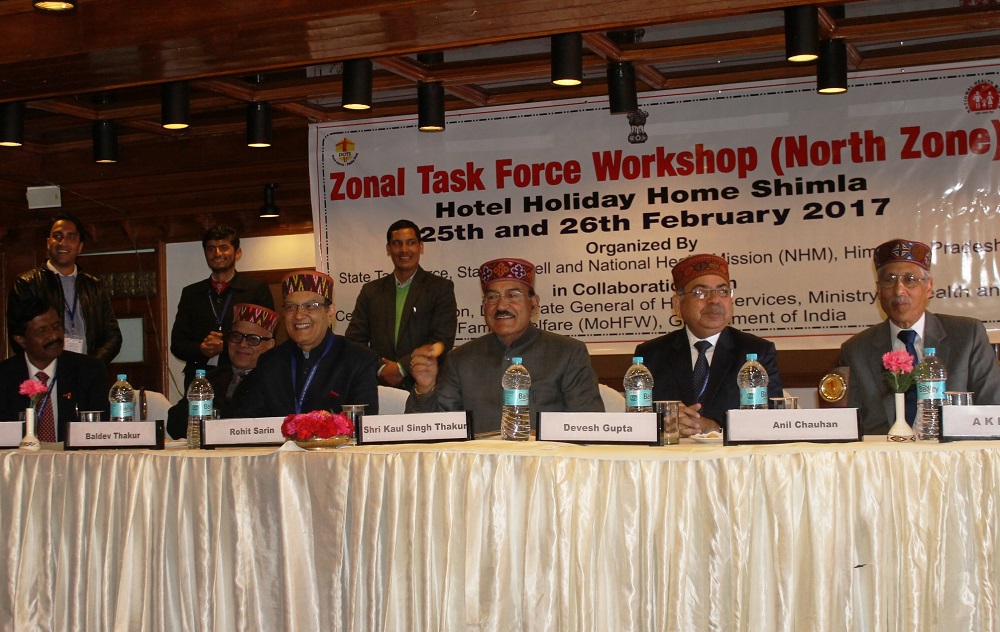 Himachal Pradesh would achieve its target of completely controlling the State from tuberculosis (TB) by 2023, two years ahead of the target fixed for 2025. The State was frontrunner in TB control activities and had created a good impression at national level. Kaul Singh Thakur Health & Family Welfare Minister stated this while speaking on the closing ceremony of two days' workshop of Zonal Task Force (North Zone), organized by State Task Force, State TB Cell and NHM HP in collaboration with Central TB Division, Ministry of Health & Family Welfare, GoI, here today.
As many as 100 delegates from 8 States viz: UP, Uttrakhand, Delhi, Chandigarh, Punjab, Haryana, J&K and Himachal Pradesh participated in the workshop.
Health Minister said the State Government was committed for improving the health of its people and has started various schemes which were being implemented successfully and today the health indicators of the State were best in the country.
He said India contributed over 1/4th of total cases of TB in the World. 28 lakhs cases and 4.8 lakh deaths in one year in India tells the story of disease burden. This is despite the fact that since 1997, more than 19 million patients in India were put on treatment and over 3.4 million additional lives have been saved.
Minister expressed happiness that programme performance in terms of case detection rate and treatment success rate of Himachal Pradesh was above the desired National level since the inception of programme and still we were striving hard to achieve more.
Thakur said in Himachal near two lakh TB patients have been treated since 1997 under the programme and there was no doubt the DOTS is synonymous with effect TB control worldwide.
He said Revised National Tuberculosis Control Programme (RNTCP) had been implemented in Himachal Pradesh in phased manner. He said Hamirpur was the first district to take up the activity in 1995 followed by Kangra and Mandi in 1998. He said entire State had been covered in January, 2002.
Health Minister said State had decentralized the TB diagnostic and treatment services, we had 72 TB units across 74 health blocks. He said remaining two health blocks would soon be made functional as TB Units. He said all allopathic health institutions were functioning peripheral health institutions. He said there were 200 diagnostic microscopic centres in the State and 15 more such centres were being opened. Presently, the State had two DRTB centres at Dharampur and Tanda for treatment of MDR and two more centres were coming up in IGMC, Shimla and Zonal Hospital Mandi this year. The State has successfully launched daily regimen for TB patients and 868 patients had been put up on daily regimen across the State, he added.
Health Minister said the State had intermediate reference laboratories at TB Sanatorium Dharampur besides two CDST labs functioning at IGMC and Tanda. He said nine CBNAAT machines were fully functional in various hospitals of the State and three more such machines had been approved for Kinnaur, Lahaul-Spiti and Kullu districts. Although, the role of medical colleges in TB control was very important which included research, training and advocacy, but it was heartening that the contribution of medical colleges in diagnosis and treatment was not worthy. However, he appreciated the contribution of medical colleges in RNTCP implementation
Additional DDG TB Control Division, GoI Dr. Devesh Gupta expressed satisfaction over implementation of TB control programme in Himachal Pradesh where 1000 patients had been put on daily regimen besides 40 percent patients were being taken care of by the private hospitals and all identified TB patients were provided quality diagnosis in the State.
Director NIT RD New Delhi Dr. Rohit Sarin said that Himachal Pradesh had created good impression in TB control activities at national level.