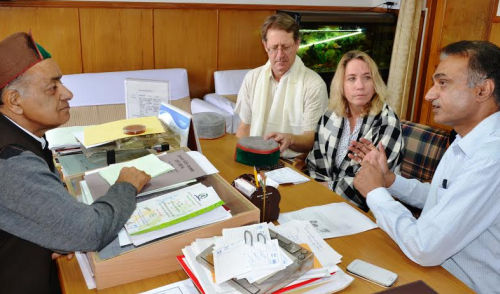 A team of experts from Primate Research Centre, California led by Dr. Brenda Mccowan and Dr. Rob Atwill called on Forest Minister Thakur Singh Bharmouri here today and discussed about the initiatives being taken by the State Government for tackling the monkey menace.
The team of experts is on Himachal Pradesh tour and had visited Hamirpur, Gopalpur and Shimla areas to monitor the behaviour of monkeys.
Forest Minister apprised touring experts about the initiatives taken by the Himachal Pradesh Government to check this menace. He informed that more than 83,000 monkeys were sterilized upto second week of May, 2014 through seven monkey sterilization centres.
Minister said that State Government would seek economic and technical assistance from California University for capturing monkeys, sterilization techniques, prevention of various diseases, garbage management and primate parks etc. He directed the department to prepare a comprehensive plan in this regard.
Tarun Shridhar, Principal Secretary, Forest said that a detailed proposal would be prepared in this regard.
R.K. Gupta, Principal Chief Conservator of Forests and Head of Forest Force, Dr. Lalit Mohan, Principal Chief Conservator (Wildlife) and Chief Wildlife Warden and other senior officers of the Forest Department were present on the occasion.