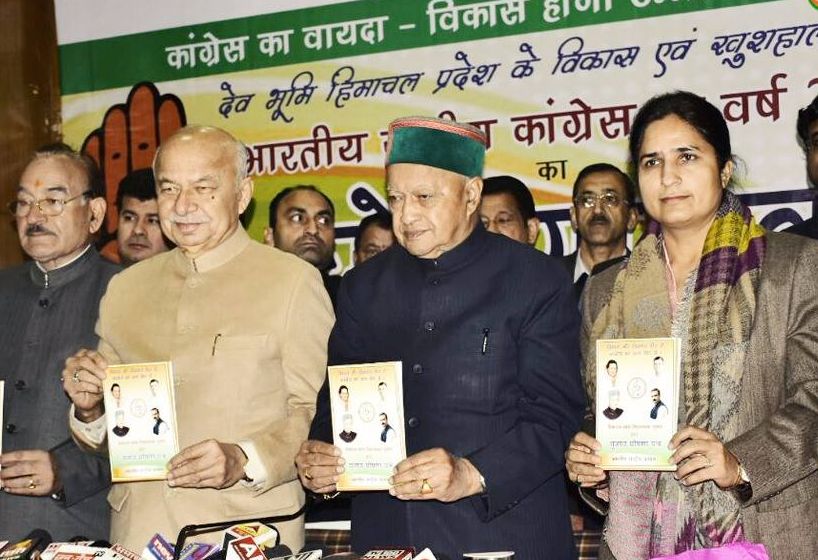 Shimla: The Congress today released its Election Manifesto. Chief Minister Virbhadra Singh, former Union Home Minister Sushil Kumar Shinde and Ranjeet Ranjan secretary AICC were present at the Rajiv Bhawan.
In its poll Manifesto, Congress promised to release 4-9-14 financial benefit to the state employees. Party if voted in power will regularize the services of contract employees in 2 years and services of daily wagers and outsourced staff will be regularized in 3 years. Congress manifesto also promises special financial benefit to the pensioners by merging their 5-10-15 percent pension allowance in basic pension.
The Congress' election manifesto also promises to open Creches and working women hostels in district and sub-division level, easing of permit policy in transport sector and increased marriage grants to 1 lakh for daughter of widow also mentioned in the manifesto.
The Congress poll manifesto promised to give 90 percent subsidy on seeds, fertilizers, agriculture equipments, anti-hail nets, fencing of farms and rain water harvesting structure. Party also promised to increase the upper limit for anti-hail net to Rs. 3 lakhs.
Congress also promised to waive off agriculture loan or interest of small and marginal farmers upto Rs. 1 lakh. Party promised to implement Forest Right Act in mission mode, and liberalized Nautor Policy for tribal areas, decreasing VAT on fuel are also found mention in the manifesto.
The Congress' election manifesto also includes 50,000 laptops with 1GB data to school students. On the employment front, the Congress promised to provide employment to 1.5 lakh people, increase of cadre of doctors and other medical staff by 25 percent and compensation in land acquisition cases to be given by applying factor-2, Congress promised. Construction of mini stadiums and sports academies at district level, opening of gym, libraries at panchayat levels also included in the manifesto.
Chief Minister Virbhadra Singh congratulated Kaul Singh Thakur-led committee for preparing manifesto. While responding to the media query about BJP announcement of Prem Kumar Dhumal as Chief Ministerial candidate, Singh quipped that the BJP has made it easier for the Congress.
Kaul Singh Thakur claimed that the Congress government had fulfilled 95 per cent of the 2012 poll promises, and promised commitment to implement the 2017 manifesto in true spirit if voted in power.
Himachal Pradesh will go to polls on November 9 and counting of votes for the 68 Assembly seats will take place on December 18.