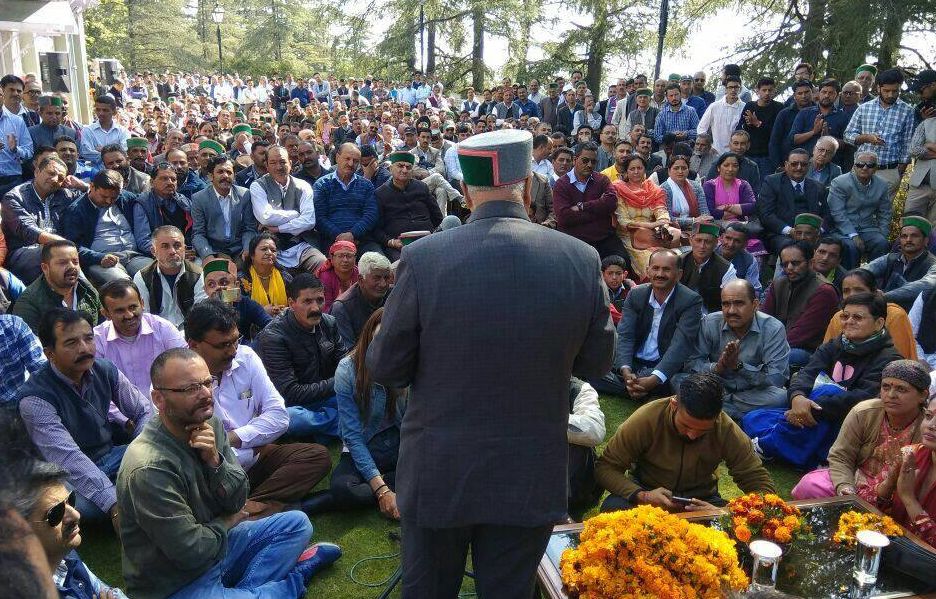 Shimla: Senior Congress leader Virbhadra Singh has nullified the impact of Anil Sharma's deflection to the saffron outfit.
Singh, in his first reaction after his Cabinet colleague's deflected to the BJP, claimed that Anil Sharma's joining of BJP would not harm the Congress's chances in the Assembly Elections. "I'm not surprised at all. We had known it for a long time that they were contemplating it. We are not affected by it," Singh told media.
Taking jibe at the Sukh Ram family, Virbhadra Singh said that their departure won't affect the Indian National Congress prospect. He reminded that Anil Sharma and his father Pt. Sukh Ram had formed Himachal Vikas Congress and supported the BJP to form government in 1998.
Other senior Congress leader Kaul Singh Thakur also rejected any impact of Anil Sharma's deflecting from the Congress party especially in Mandi Sadar sear. Thakur claimed that Mandi seat was a strong Congress bastion and even after Sharma's leaving Congress, party candidate will register win from the seat.
Calling Anil Sharma an opportunist, Kaul Singh Thakur claimed that Virbhadra Government has ensured unprecedented development in the region and claims of neglecting Mandi by Anil Sharma are baseless. He claimed that Anil Sharma had taken every possible benefit from the government and by deflecting to the BJP fold, Sharma has betrayed Congress.
Thakur also rejected the claims of BJP forming government in the state. He said that his forty years of political experience can see a possible win for the Congress party in the state. He said that people of Himachal Pradesh has voted for development and state government has carried out unprecedented development in the state and party is poised to complete its mission repeat.
Earlier today, Virbhadra Singh and Kaul Singh Thakur had meeting at former's residence and chalked out strategy.
Meanwhile report of rebellion in Mandi Sadar BJP are coming to fore. As per information Mandi Sadar BJP has protested Anil Sharma candidature and threaten to tender mass resignation.