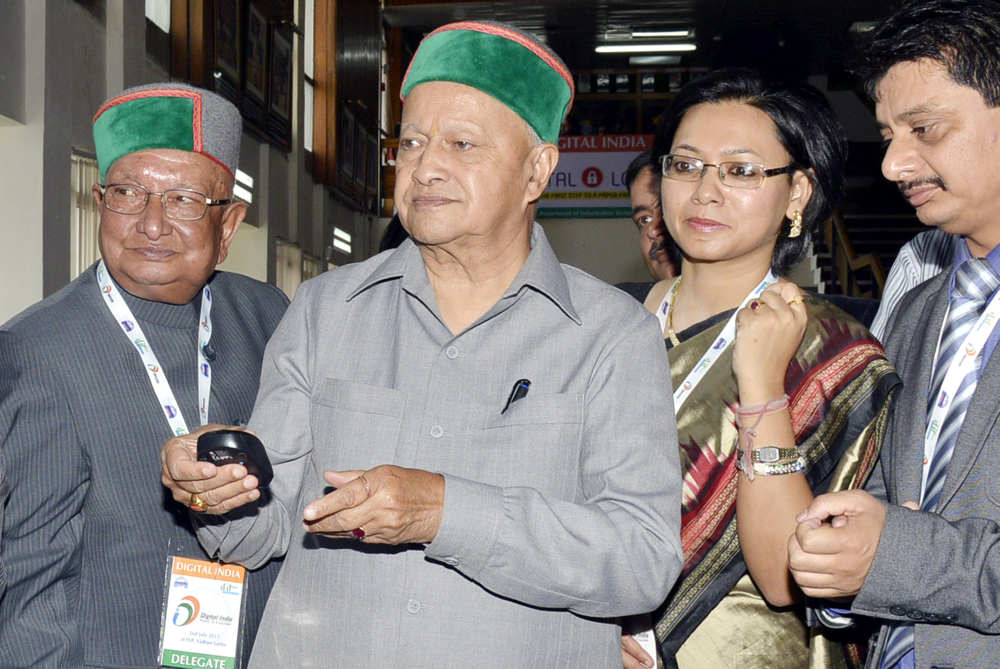 Shimla: Under the Digital India Programme, Himachal Pradesh Chief Minister Virbhadra Singh today officially started e-district service from government to citizens under e-district portal, Aadhar Permanent enrolment center and Digital lockers to members of Vidhan Sabha.
The Chief Minister attributed the successful launch of Digital India Programme to the previous UPA ambitious National Fibre Optical Network (NOFN) project that provided high speed internet connectivity upto the gram panchayat level.
Virbhadra Singh said that Himachal Pradesh was one of the leading states in implementing Information Technology in Government sector, and it has been endeavouring to bring transparency and accountability through e- Governance in the delivery of services to the people.
The Chief Minister informed that around 1800 offices were connected through HIMSWAN Network, and about 2000 Common Service Centers were providing government services to the citizens in almost every corner of the State.
Speaking on the occasion Speaker Vidhan Sabha, Brij Bihari Lal Butail said that HP Legislative has a great role to play to ensure participation of people in development process. He said that Digital India week was being celebrated to provide speedy service to the people of the State besides achieving the objective of Digital India.
Earlier, a detailed presentation of the services to be digitized was also given by officers of IT department of the State. Director IT Vidhan Sabha, Dharmesh K. Sharma also gave presentation on e-Constituency management which will help the members of legislative assembly to know more about the ongoing development works and its status in their respective constituencies on their mobile apps. This will help in better management and monitoring of works, he added.
Cabinet Minister Thakur Singh Bharmouri and Dr. (Col.) Dhani Ram Shandil, CPSs, MLA's, Advisor IT, Gokul Butail, Administrative Secretaries, Head of Departments, Officers from IT department and HP Vidhan Sabha were also present on the occasion.