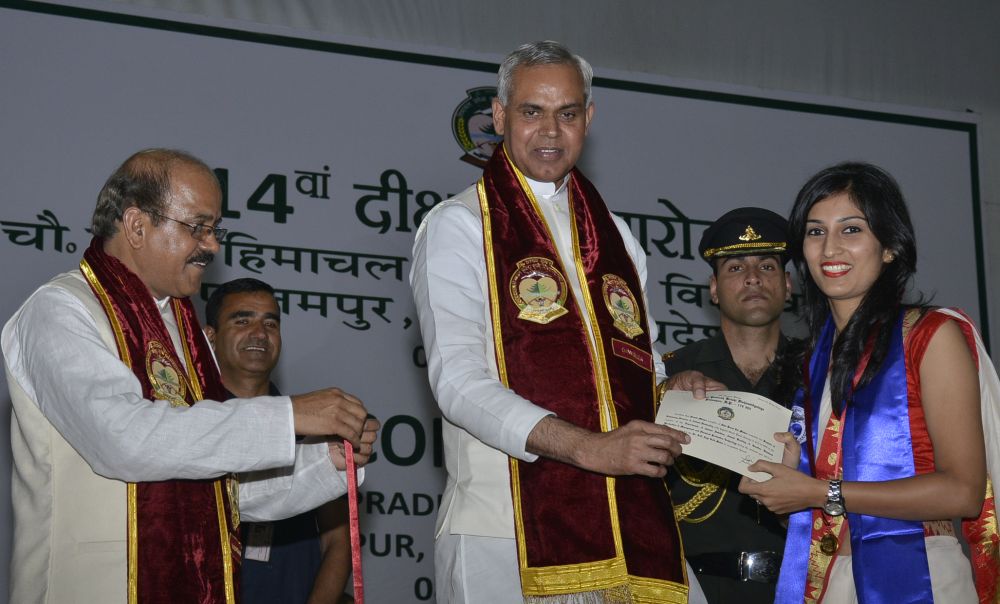 Palampur: Chaudhary Sarwan Kumar Agriculture University, today, celebrated its 14th Convocation ceremony. In the convocation, 343 students conferred with degrees and 22 meritorious students honoured with Gold Medals.
The Governor Acharya Devvrat congratulated the degree holder and Gold medalist students and urged them to serve the state and country in a selfless manner. He especially congratulated the girl students for excelling in different fields and expressed satisfaction that out of 343 degree holders 222 were girls.
The Governor said India has remained agricultural country since the ancient times where there used to be cottage industries at village level which were sufficient enough to cater to basic needs of the people. But with the changing times, circumstances have changed and it is a matter of great concern that today farmers are committing suicide. He said the farming sector can be improved by adopting zero budgeting natural farming and evolving such system where farmers need not to take loans for agricultural activities.
He said that natural farming was healthy and conducive for environment. He added that it was essential to shift from chemical farming to natural as the fertility of the soil declined and many health problems persisted due to chemicals used in abundance in agriculture crop, which was a matter of concern. He said that role of scientists was very significant for strengthening the agriculture sectors and urged them to work with sincerity and dedication as this sector was the backbone of the economy.
He said that if the scientists determined to work on natural farming than nobody could stop the state to become organic state of the country like Sikkim. It would also check the monopoly of private companies selling chemical fertilizers and pesticides.
Acharya Devvrat called upon the scientists of the University to educate the farming community about natural farming and added that special awareness should be generated for adopting zero-budgeting for improving the existing agriculture practices in the state. He also asked the scientists to conduct intensive research and develop new techniques besides improving the existing ones especially in organic farming. He said the research conducted in laboratories should reach the fields and farmers. He also stressed upon improving the indigenous cow breeds.
Brij Bihari Lal Butail, Speaker, H P Vidhan Sabha congratulated all the degree recipients and called upon them to work dedicatedly for strengthening the state and put their knowledge for improving the farming activities in the state.
He said that 62 percent employment was being generated through agriculture based activities which were also contributing 10 percent towards state GDP. He said that several programmes and policies were being executed in Agriculture sector by the state government for strengthening the economy of the farmers which included crop diversification scheme, Dr. Y.S. Parmar Kisan Swarojgar Yojana, production of cash crops, and encouraging for organic farming etc. He said that State got ' Krishi Karman Puraskar' in food grain production.
Prof. Ashok Kumar Sarial, Vice Chancellor, CSK HPKV, Palampur welcomed the Governor and detailed out various activities and achievements in different spheres of the University. He said that since its inception, 6593 students have passed out from the University and added that during the academic year 2017-18, a record number of 13613 candidates applied for BVSc & AH and BSc ( Hons. ) Agriculture programme for total 137 seats in both the degree programmes. During the period , 191 students qualified various National Level Competitive examinations conducted by Indian Council of Agriculture Research.