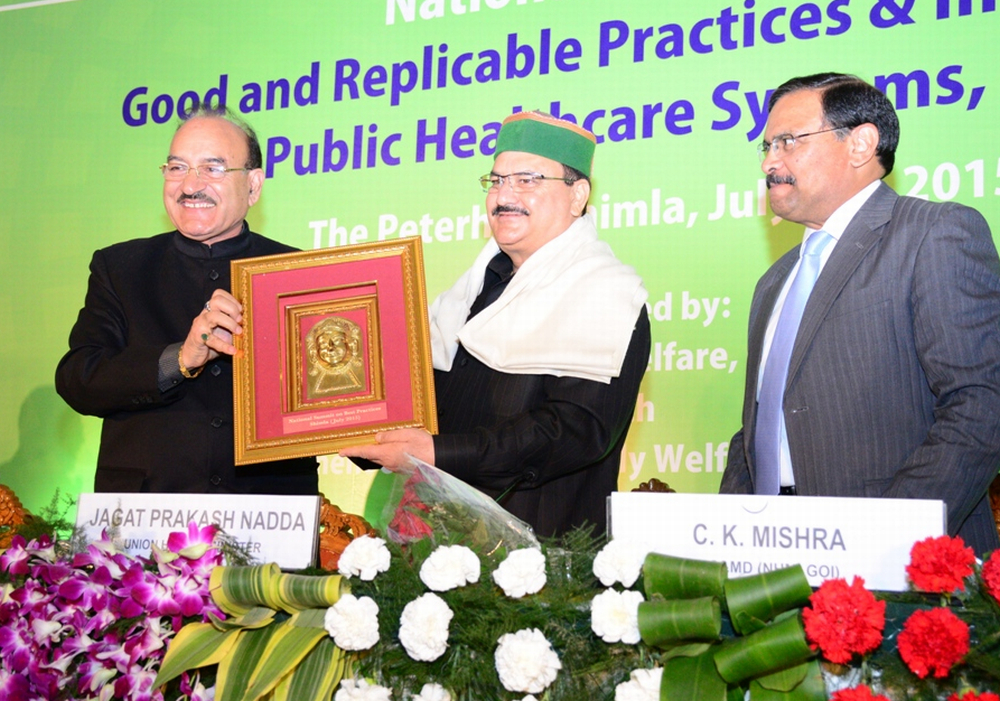 Shimla: Union Health Minister JP Nadda launched 'Innovation Portal' under NHM and 'Voice Portal' based on health services. Under the voice portal any person would be able to get any information pertaining to health issues by dialing toll free number 1800-180-1104. The facility would be available in Hindi and English along-with other regional languages.
Union Health Minister also inaugurated three day long national summit on 'Good and Replicable Practices and Innovations in Public Health Care Systems' here today which is being organized by the Union Ministry of Health and Family Welfare in collaboration with department of Health and Family Welfare, Himachal Pradesh.
Minister assured all possible help to Himachal Pradesh in health sector and there would be no paucity of funds to the state under the National Health Mission (NHM).
He asked the state government to send proposals under various schemes of NHM and the union government would provide full support for funding of these projects. He informed the union government had sanctioned to release Rs.102 crore to the state under NHM.
State Health Minister Kaul Singh Thakur said the state government was endeavouring to provide best health services to the people of the state. He informed that tele-medicine services had been started in Lahaul-Spiti district of the state so as to provide best health care services in the tribal areas. He added these services would soon be started in 25 more health institutes of the state.
Kaul Singh Thakur urged the Union Government to maintain the special category status for Himachal Pradesh and providing liberal financial assistance.
Directors, MHM C.K Mishra, Joint Secretary (Planning) Manoj Jhalani, Joint Secretary (RCH) Dr Rakesh Kumar, Mission Director NHM Dr. H.R Sharma were also present among other at the event.