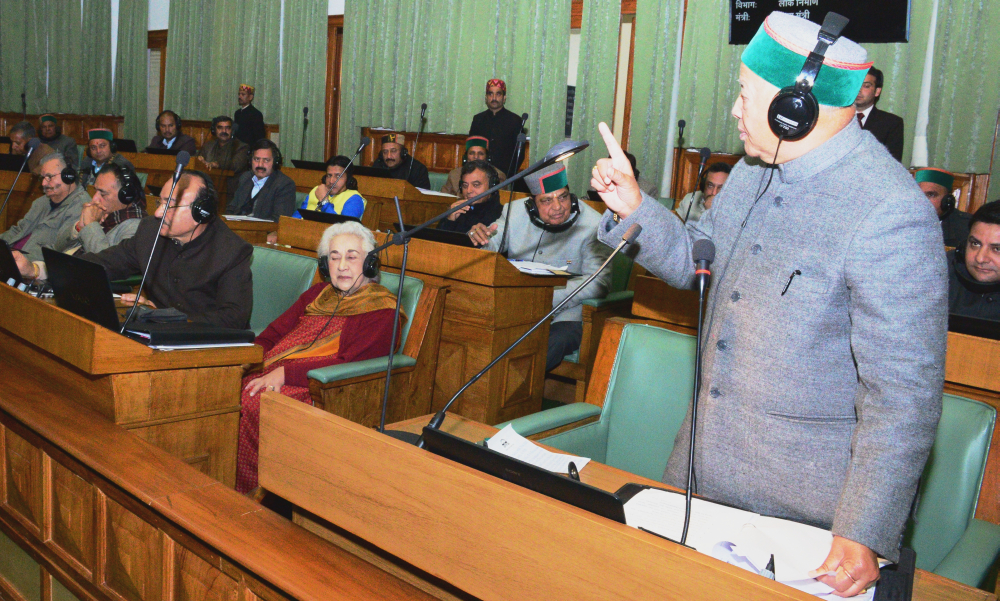 On second day of the Himachal Pradesh Budget Session, opposition BJP staged protest for not getting permission to debate on the clash between the BJP and Youth Congress activists in January in Shimla over the land acquisition ordinance.
BJP legislature Suresh Bhardwaj demanded discussion under norms 67 to debate the clash between BJP and YC and as the house assembled in the morning, he enquired about the fate of notice.
BJP member accused Youth Congress activists, led by state president Vikramaditya Singh, for attacking the BJP state office and because of stone pelting from youth Congress activists one of the BJP activists lost his eye. Bhardwaj termed it a serious issue and demanded a debate on it.
Former CM Prem Kumar Dhumal, ministers Rajeev Bindal, Ravidner Singh Ravi and Mahender Singh also scouted the demand and pressed for discussion in the house.
However, speaker Brij Bihari Lal Butail rejected the notice for the adjournment motion and upon which agitated opposition members started raising slogans and later staged walkout from the house.
The question hour and house proceedings, however, continued in the midst of the ruckus.
Clarifying the issue, Chief Minister Virbhadra Singh termed the incident unfortunate and blamed opposition for raising it to get a political mileage. He advised BJP to fight political battle outside the house.
The Chief Minister clarified that YC staged protest against the land acquisition ordinance on the call of national leadership and was hold countrywide. The CM claimed that even YC president had called Dhumal about its protest.
He said the government had conducted the magisterial inquiry and it was the BJP which boycotted it.
Rejecting the Chief Minister's claims, leader of opposition Prem Kumar Dhumal claimed of getting call from Vikramaditya when they were about to reach the BJP's office and he claimed of advising him not to set bad precedent.