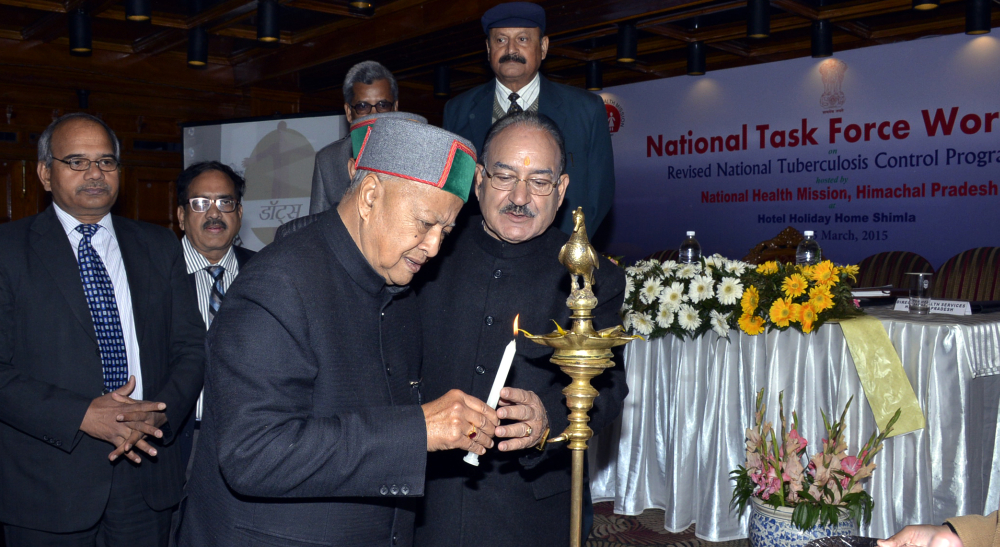 National Task Force workshop on Revised National Tuberculosis Control Programme was held at IGMC, Shimla today. Chief Minister Virbhadra Singh, while addressing the workshop emphasized to discuss status of tuberculosis disease control efforts and advocate to create awareness to reduce the stigma associated with disease, so that people come forward for self-diagnosis.
The Chief Minister said the Government was committed for the improving nutritional health of the TB patient and the welfare of their families and assured that the nutritional care of the patients suffering from Multi-Drug Resistance (MDR) and HDR tuberculosis would be taken care of and adequate steps would be taken in this direction.
He said that medical fraternity had made breakthrough to control ailment, but still large number of people were felling it to, which had to be reduced to zero. He said
in Himachal Pradesh, nearly two lakh TB patients have been treated and cured since 1997 under the Revise National Tuberculosis Control Program (RNTCP), which is no less than the achievement but still more has to be done to completely eradicate TB by creating awareness amongst the masses and by adopting latest improvised techniques
Health Minister Kaul Singh Thakur said the health indicators of the State were best in the country besides there were Direct Observation, Treatment and surveillance (DOTS) centers in almost all health institutions in the state. He said that the State Government was committed to open DOTS centers in every block of the State, adding that each TB patient would be screened for diabetes also.
Chief Parliamentary Secretary, Health, Nand Lal, Deputy Director General, (RNTCP), Dr. S. D. Khaparde, GoI, Prof D. Behera Chairman National Task Force, Director NTI, Bangalore, Dr. Prahlad Kumar, Director (JALMA), Agra, Dr. Shrikant Tripathi, Director, Medical Education, Himachal Pradesh, Dr. Jaishree Sharma, Director, Health Services, HP, Dr. R. K. Sharma were also present on the occasion amongst various medical experts in the field from all over the country.