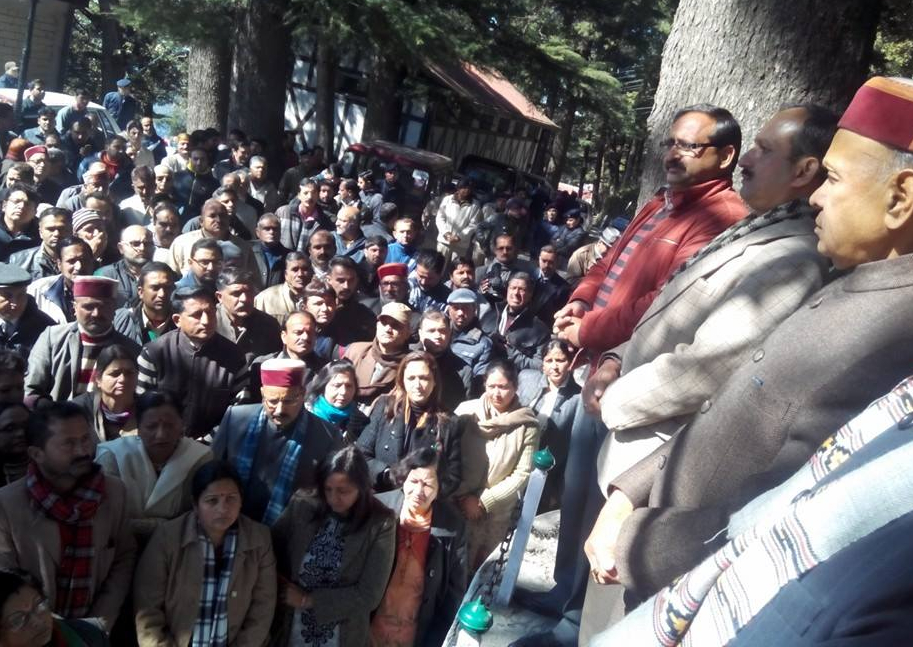 Shimla: A day after the clash between Youth Congress and BJP activists, both political outfits seems busy blaming each other for the unwanted incident.
The Himachal Pradesh BJP led by Leader of Opposition Prem Kumar Dhumal and state party president Satpal Satti met Governor Kalyan Singh and submitted a two pages memorandum, in which party demanded dismissal of the state government and also sought judicial enquiry in the incident.
BJP has also questions the need of Youth Congress protest against the central government's decision outside its state office.
Though the Himachal Congress has also condemned the incident, but blamed BJP for clash. Congress state spokesperson Naresh Chauhan claimed the Youth Congress workers were staging a peaceful protest at BJP office, which was hold nationwide to protest against the ordinance brought out by NDA government for Land Acquisition Act.
Chauhan also criticized the media statements of BJP leaders and termed it pre-planned and added that BJP leaders seems to agitated over the inquiries initiated by the state government and the entire incident seems to planned in advance to create tensions during the protest. He said
"BJP leaders seems to have planned the incident to gain political mileage by playing victim and disrupt the proceeding of upcoming state Budget Session by creating disturbance during the session,"
Youth Congress president Vikramaditya Singh has denied allegations of opposition BJP and accused BJP workers for instigating Youth Congress workers and starting pelting stones to disrupt peaceful protest.
Governor Sought Report from Police
Himachal Pradesh Governor Kalyan Singh has summoned Director General of Police Sanjay Kumar, Additional Director General S.R. Mardi and Superintendent of Police D.W. Negi and sought a report on the incident.
Administration ordered Magisterial Probe
The Shimla Administrations has ordered magisterial enquiry into it and if any person has any information, video footage or other useful stuff, he/she can help administration by sending them on adm/o-sml-hp@nic.in or can also contact on ADM office number 0177-2657005 before 4th February 2015.