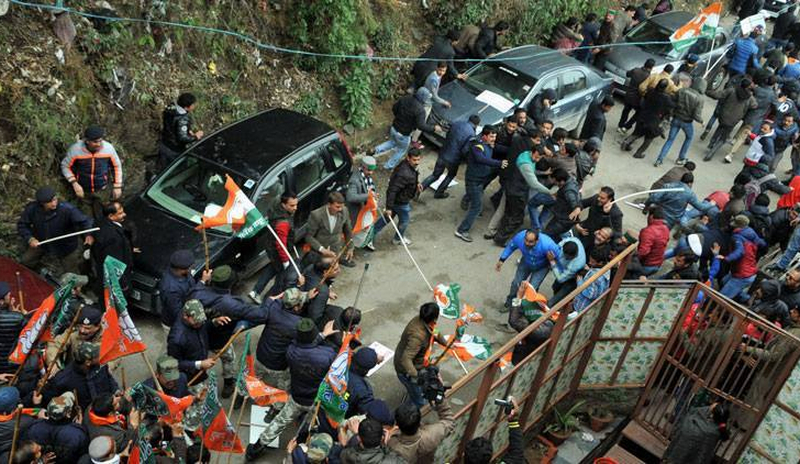 Himachal Pradesh Youth Congress protest against Land Acquisition Ordinance turned violent today, which leaves many injured, including two police personnel, and damaged BJP state office 'Deep Kamal' and vehicles parked outside the office.
The Youth Congress workers, led by President Vikramaditya Singh, were holding protest outside the BJP state office, but as soon as Youth Congress activists raised slogans, BJP workers, who were inside the office, came out and after that altercation started and transformed into clash and within no time stones, bricks, bottles and canes were hurled, which continued for more than half an hour.
Shimla Police have registered cross FIRs of rioting, assault and trespassing on the complaints of two sides.
State Youth Congress president Vikramaditya Singh has accused BJP of attacking the Youth Congress activists. He claimed the Youth Congress activists were peacefully holding a demonstration outside the BJP office when the BJP workers opened an attack. He accused BJP workers for deliberately creating trouble to hamper Youth Congress peaceful protest. He said leader of opposition CM Prem Kumar Dhumal had been informed over the phone about the proposed protest outside the BJP office.
However, BJP spokesman Ganesh Dutt has accused the Youth Congress workers of attacking and ransacking the BJP office. He has demanded the resignation of Atul Sharma, vice-chairman Himachal Pradesh State Industrial Development Corporation Limited, Mahender Stan, chairman Shimla-Kinnaur Agricultural Produce Market Committee and Sanjay Parmar, nominated councillor to Shimla Municipal Corporation.
Veteran BJP leader Shanta Kumar has also condemned the attack and termed it as an attack on the democratic setup. He said that difference of opinion is an integral part of democracy, but it has no place for violence.
Many other BJP leaders have also condemned the attack and termed it as a sheer example of narrow-mindedness of the Congress. The state BJP has decided to meet Governor Kalyan Singh on Friday and apprise him about the incident.