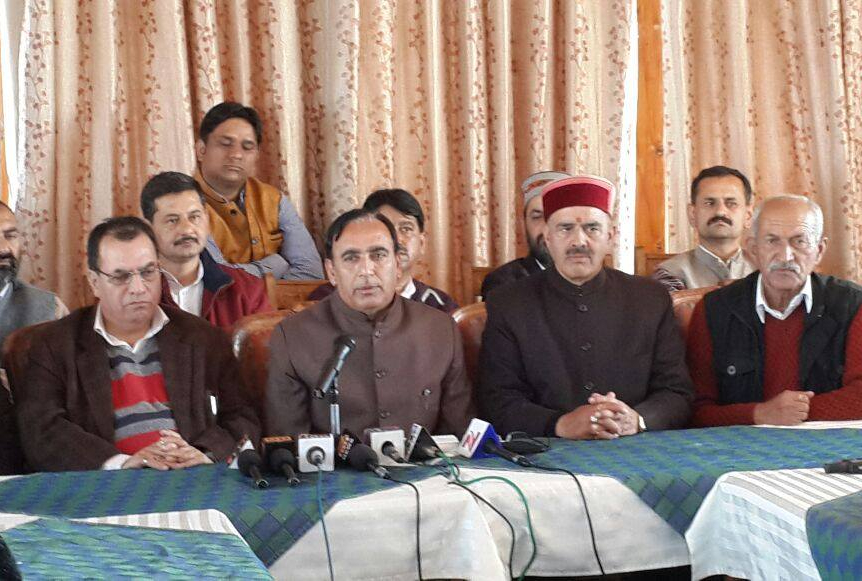 To highlight the plight of Theog-Hatkoti-Rohru road, former Horticulture Minister and BJP vice-president Narinder Bragta opted for Gandhian way of protest as he has decided to launch weeklong padyatra from November 14.
In a press conference Narinder Bragta revealed that the BJP state president Satpal Singh Satti will flag off the protest that will go through Hatkoti, Jubbal, Kharapathar, Kotkhai, Theog, Dhalli and conclude at The Ridge on November 20, where leader of opposition Prem Kumar Dhumal will also be present.
Bragta urged farmers, apple growers, traders, taxi drivers, transporters and NGOs to participate in the protest march.
Former Horticulture Minister and ex-legislature-Jubbal-Kotkhai assembly segment claimed that the condition of the road has gone from bad to worse and the public has no way out other than protest to awake Chief Minister Virbhadra Singh, Horticulture Minister Vidya Stokes and CPS Rohit Thakur from their slumber.
Bragta accused Congress leaders for misleading the common public over the road and dared government to come out with the white paper, so that public knew the truth.
He also questioned the allotment of work to Chadha and Chadha Company, which he believed was carried out without analyzing its financial balance-sheet.
Congress leaders had prominently highlighted the issue of Theog-Hatkoti-Rohru road before and during the assembly election and able to wrest the seat from the BJP with huge margin. The Congress, then, had accused BJP for delaying road work on political consideration and promised to improve the same in 100 days. However, as evident to all, the construction work of road hasn't picked up, leaving daily commuters and people living nearby to the road in lurch.
Shimla BJP MLA Suresh Bhardwaj, party spokesperson Ganesh Dutt and other BJP leaders were also present.