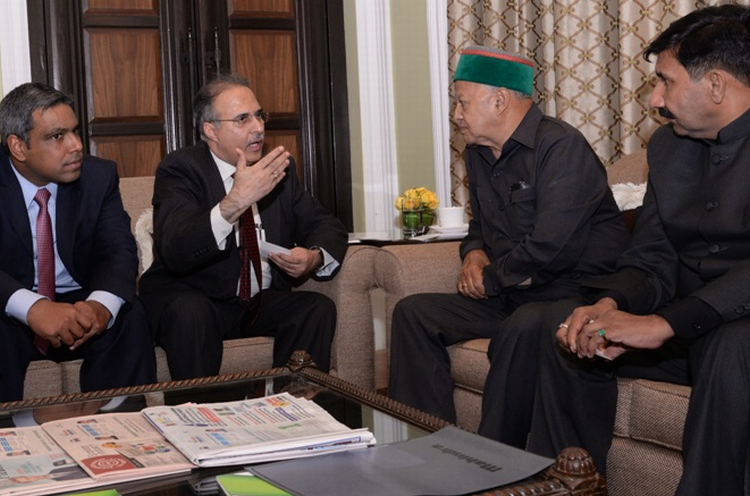 The TATA Company has proposed to invest in Hydro-Power Sector in the state. In a meeting with state delegation led by Chief Minister Virbhadra Singh at Mumbai, TATA proposed to set up five to six hydro projects and that to within a given time period.
TATA also proposed the introduction of cable cars and ropeways in the State.
Arun Nanda, Chairman and Director Mahindra & Mahindra, while interacting in one to one meet proposed setting up Arts and crafts village and expanding resorts in lower belt of Himachal Pradesh for boosting tourism and setting up International educational institutes.
Apurva Parekh, Executive Director Pidlite, which at present is a major investor in the State, intends to invest/expand its manufacturing facilities with an additional investment. The Chief Minister assured to extend help in whatever possible manner.
Amarson limited and Meridian Group also offered an investment of rupees 600-700 crore with interest-area in Solar and Bio Mass energy using obnoxious weed lantana and Pine needles for generating electricity and planning 10 MW Solar Energy project in the State immediately and an introducing House Boats in Pong besides Bird Culture towers on their own private land.
Glenmark, Hindustan Levers, United Phosphorous Limited, (UPL), HI Tech India Private Ltd besides, many other small and big business houses interacted with the Chief Minister and proposed to invest in the State.
To attract entrepreneurs, the state government together with Confederation of Indian Industry (CII) had joined hands to introduce the potential for investments in various projects in Himachal Pradesh.
The Chief Minister Virbhadra Singh is scheduled to hold similar meeting at Bangluru and Ahmedabad.
Mukesh Agnihotri, Industries Minister, V.C. Pharka, Additional Chief Secretary, Tarun Shridhar, Principal Secretary, Revenue, Dr. Shrikant Baldi, Principal Secretary, Finance & Taxation, S.K.B.S. Negi, Principal Secretary, Power, R.D. Dhiman, Principal Secretary, Industry & Labour, Rajinder Singh, Director, Industries, Rajinder Chauhan, Advisor Industries and Mohan Chauhan, Director, Tourism were also present on the occasion.