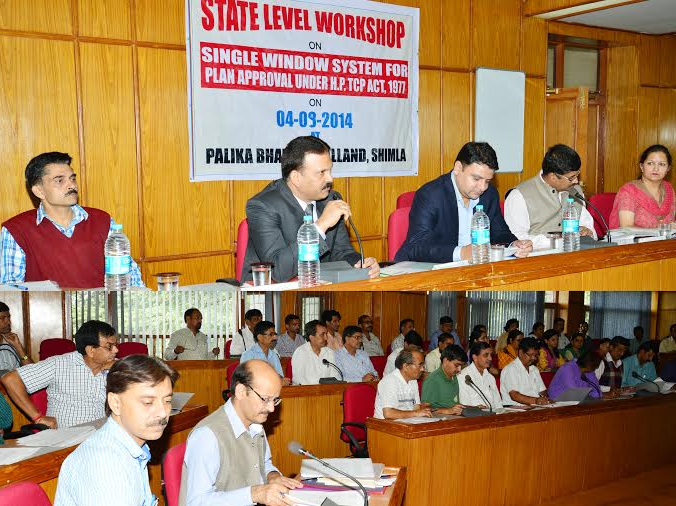 In a meeting of Town and Country Planning and Urban Development Departments to implement Single Window System in ULBs here today, Urban Development and Town and Country Planning Minister Sudhir Sharma said that State Government was committed to provide best civic amenities to residents of the urban areas besides developing these areas in a systematic and planned manner.
Sharma said that so far 33 Urban Local Bodies (ULBs) had been notified under planning area in the State while 34 were under SADA. With a view to ensure planned development of the urban areas, the State Government has proposed to bring all ULBs under planning area which will also help in providing basic facilities as per the requirements of the people of urban areas.
He said that so far only 12 ULBs were authorized to give planning permissions and it would be ensured that all such ULBs were delegated powers for approval of maps where development plans had already been prepared. He said that Executive Officers and Secretaries of the Nagar Panchayats, Municipal Committees had been imparted training.
Sudhir Sharma said that the provision was being made to relax BPL families from paying fee for approval of map under Town and Country Planning Draft Rule, 2014.
Sharma directed that a policy be prepared for delegating powers to all empanelled architects in the State for map approvals through self certification. He also directed the TCP department to formulate a master plan to bring uniformity in map approvals in the State. He added that all these measures were being taken to facilitate the common man of the State.
Secretary Urban Development R.D. Nazeem, Director, Urban Development Capt. J.M. Pathania, Director, Town and Country Planning Sandeep Kumar, Commissioner Shimla Municipal Corporation Amarjeet Singh and other senior officers attended the meeting.