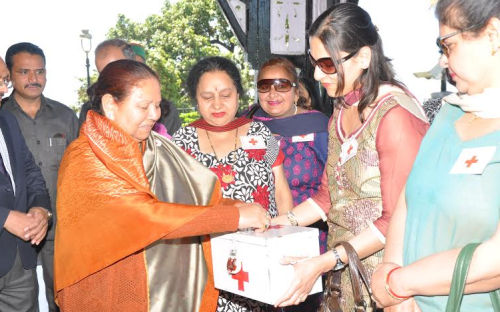 World Red Cross Day was observed at Raj Bhawan today. Members and office bearers of State Red Cross Society and H.P. Red Cross Hospital Welfare Section and students of local schools pinned up Red Cross flags to Governor Urmila Singh, who is also the President of H. P. State Red Cross Society, at Rajbhawan here today to mark the occasion.
The theme for this Year's World Red Cross Day was ' My Red Cross Story/ My Red Crescent Story'. Urmila Singh also made her contribution towards the Red Cross Society on the occasion.
Appreciating the theme for this year, Governor said that it would go a long way in initiating a dialogue with the people to learn about their personal connection with the Red Cross movement, which has touched so many lives across the world during the hour of need. She hoped that the effort would re inspire the people to contribute towards this largest humanitarian movement of the world with more zeal and dedication in order to mitigate the pain of suffering humanity.
Singh stressed upon the role of youth in strengthening the movement and added that inter generational dialogue between the young and senior volunteers could motivate the young citizens at community level to associate themselves with the activities of Red Cross.
Urmila Singh urged the people to donate generously towards the Red Cross for creating a sustaining resource pool to carry forward its humane activities like providing financial assistance to diseased, people affected by various natural calamities which would contribute towards saving precious lives in future.
Governor also congratulated all the members and volunteers of the Indian Red Cross Society, Himachal Pradesh for their tireless efforts which have gone a long way in strengthening the Red Cross Movement in the State.
World Red Cross Day was observed on 8th May every year to commemorate the birth anniversary of Sir Henry Dunant, who founded the International Red Cross and Red Crescent Movement in 1863 to protect human life and to alleviate human suffering.
Students of local schools also took out a rally on the occasion to generate awareness about Red Cross among the people.
R.D. Dhiman, Principal Secretary Industries who is also holding the charge of Secretary to Governor, Nandita Gupta, Labour Commissioner, P.S Rana, Secretary State Red Cross Society, Members of H.P. Red Cross Society and Red Cross Hospital Welfare Section, officers of Raj Bhawan were present among others on the occasion.